Editing Tools
To have a successful eCheck Deposit, you may need to adjust your check image.
You can use Crop, Flip or Undo to adjust the image until the entire check is visible without any extra space around it.
Crop – Allows you to remove extra space around the check
Flip – Rotates the check 180 degrees
Undo – Allows you to correct any mistakes you make while cropping
Editing Tools
Crop
If your scanned check images have too much white space around the check, you can use the crop tool to remove it.
Choose crop and click on the top left corner of the check
Click on the bottom right corner - a red rectangle will appear around the selected area
Choose crop again to finish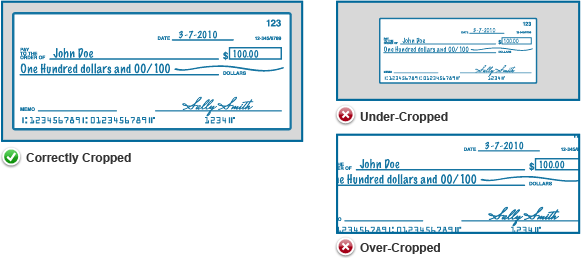 Editing Tools
Flip
If your check image appears upside down, you can use flip to rotate the image 180 degrees.

Editing Tools
Undo
You can use undo to correct any mistakes you make while cropping. You can also use undo if your image is cropped incorrectly by the automatic cropping tool. It can also display more of the check image if the image was over-cropped.
Editing Tools
Recap: Editing tools
Crop – Allows you to remove extra space around the check
Flip – Rotates the check 180 degrees
Undo – Allows you to correct any mistakes you make while cropping
Remember, you can also use the Ally Mobile Banking app to submit your eCheck Deposit. See more