Beyond School Walls
Changing perspectives, changing lives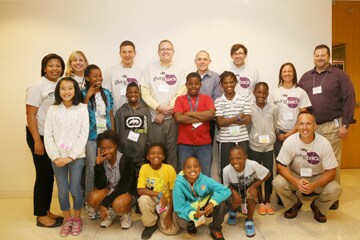 We are grateful for the support and dedication of the Ally mentors. They have been a positive force and outstanding role models to our Charlotte-area

students.
– Doug Hartjes, Vice President of Development,
Big Brothers Big Sisters of Greater Charlotte
Ally has joined Big Brothers Big Sisters of Greater Charlotte and the Walter G. Byers School in an innovative collaboration called Beyond School Walls. This mentoring program pairs Ally employees with 25 fourth- and fifth-grade students for the school year. Student mentees, or "Littles," meet their mentors, or "Bigs," at the Ally office each month. Bigs mentor their Littles in social skills, problem solving, financial literacy, public speaking and study skills. Most of all, each child has a mentor to help him or her succeed not just in school, but in life as well.
Statistics show that children with mentors do better in school and avoid getting into trouble. Beyond School Walls is an impactful mentoring program that offers volunteers the opportunity to change a child's life. Ally is proud to support Big Brothers Big Sisters to help children realize their potential and build their futures.
Big Brothers Big Sisters is the largest volunteer supported mentoring network that matches adult volunteers with children in communities across the country.