Junior Achievement
Igniting dreams, leading the way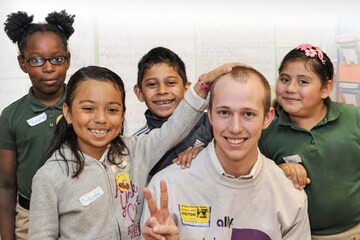 Ally employees who volunteer for Junior Achievement generously give of their time and talent and impact young people in a personal and meaningful way. The partnership between our organizations is most appreciated and

valued.
– Karen Kosniewski, President and CEO,
Junior Achievement of Southeastern Michigan Inc.
Ally has a long history of volunteering with local Junior Achievement programs thanks to our shared commitment to providing financial education. Junior Achievement fosters work-readiness, entrepreneurship and financial literacy skills, and uses experiential learning to inspire students to dream big and reach their potential through in-class lessons and off-site enrichment.
In 2014, Ally employees volunteered over 660 hours mentoring more than 4,400 students with Junior Achievement. During the program sessions, employees pour their enthusiasm and life experiences into a lesson plan that is fun and educational, allowing them to truly connect with the students.
When it's not possible to be in the classroom, Ally provides grants to local Junior Achievement chapters. These funds enable Junior Achievement to bring its dynamic curriculum to thousands of students in low and moderate-income communities, enhancing its educational programming. Ally is honored to make a difference in the lives of children, helping them achieve personal financial success in life.