TIME Dealer of the Year
Auto dealers giving back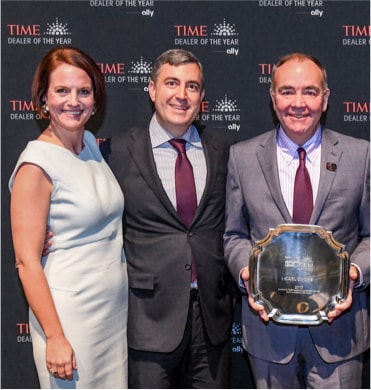 Ally celebrates dealers across the country who share time and resources with charitable organizations in their communities. We're proud to help recognize some of the nation's most successful auto dealers, not just for how much they accomplish, but for how much they give back.
The 2017 TIME Dealer of the Year is Carl Swope, president of Swope Toyota in Elizabethtown, Kentucky. In the early 1990s, Swope helped establish the local affiliate for Habitat for Humanity and the statewide Kentucky Habitat. Swope remains active in Habitat for Humanity projects, working with his colleagues to help families in his community. Swope currently serves on the Lincoln Heritage Council for the Boy Scouts of America and Hardin Memorial Health Foundation, as well as many other area organizations.
In its sixth year as exclusive sponsor of TIME Dealer of the Year, Ally donated $1,000 to the charity of choice for each of the 49 dealer nominees and will provide $10,000 to the nonprofit selected by the winner, Swope. In addition, the three finalists, as well as the state Automotive Trade Association Executive (ATAE) who nominated the 2017 winner, will each receive a $5,000 grant for the nonprofit organizations of their choice.
All nominees are featured on AllyDealerHeroes.com, which highlights the philanthropic contributions and achievements of auto dealers across the United States.