Theft Protect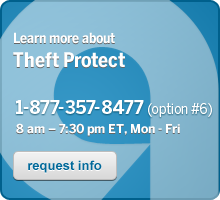 Gives your customers a choice of coverage — a $2,500 or $5,000 benefit payment — if their vehicle is stolen and not recovered, or recovered as a total loss.
How it works
A unique identification number is permanently etched into glass surfaces on the vehicle, or applied throughout the vehicle, to help law enforcement identify the rightful owner. All Theft Protect coverage levels offer either:
Theft Protect Etch
Traceable ID numbers that are chemically etched into each of the vehicle's windows.
Theft Protect Phantom Footprints
Permanent, tamper-resistant labels are applied to the vehicle on six different areas. These labels leave a traceable mark if removed.