At Ally Bank, we think our customers deserve the best in online security even when they aren't on our site. That's why we're giving customers industry-leading anti-malware software, Webroot SecureAnywhere, for free.
It provides exceptional protection against online threats to PCs and Macs, and it was named Best of the Year by PC Magazine for 2013. Ally Bank customers can also download Webroot SecureAnywhere Mobile to their Android™ smartphones and tablets, for free.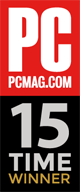 Threat Protection
Blocks viruses, spyware, phishing attacks, and other threats
Continually updates itself so it's always current
Identifies unsafe links and search results before you click
Prevents malicious programs from changing your settings

Download Now
Interested in enhancing your online security for iPhone®, iPad® and iPod touch®?
This type of antivirus software product will not run on these iOS devices because of the way Apple has designed the operating system and secured the App Store℠.
However, the App Store℠ offers a variety of secure browser apps for these devices that will increase your protection while browsing online.
After logging in, if you are not automatically redirected to the download page, go to the
Security
page at the bottom of Ally.com and click on the Webroot SecureAnywhere offer.
More Info
PC Magazine is a trademark of Ziff Davis, Inc. Used under license. Reprinted with permission © 2012 Ziff Davis, Inc. All Rights Reserved.
The Android robot is reproduced or modified from work created and shared by Google and used according to terms described in the Creative Commons 3.0 Attribution License. All logos, registered trademarks and other trademarks are the property of their respective owners.
Windows is a registered trademark of Microsoft Corporation in the United States and other countries.
OS X, iPad, iPod touch and iPhone are registered trademarks of Apple Inc. App Store is a service mark of Apple Inc.