Why Refinance
Make your payments work better for you
Lower monthly payments.

Whether you want to switch from an adjustable rate to a fixed rate, or just looking to increase your cash flow, refinancing may get you a lower interest rate so you can save money each month.

Pay off your loan faster.

Changing to a shorter term means you pay off your home sooner and lower the total amount of interest you're paying on it.

Take cash out.

If there's equity in your home, taking cash out adds to your mortgage but provides the option to consolidate debt, make home improvements or pay off other expenses.
Today's Rates
Get the loan you want, on your terms
We're unable to show you our rate and payment options right now. Please check back later.
Crunch the Numbers
See the difference a new loan can make with our refinance calculator.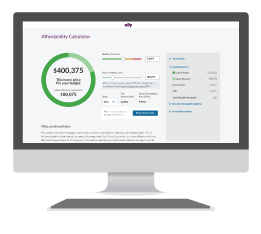 Your Home Team
We're with you every step of the way
Dedicated support.

We provide you with a knowledgeable team of loan experts to help you through the home loan experience, from application to close.

Communication options.

You choose how you'd like to be contacted: by phone or email.

Frequent updates.

We check in with you regularly to answer any questions you may have along the way.

Online access.

Manage all your loan-related documents from any device. It's quick, convenient and secure.
How it Works
Know what to expect ahead of time
1. Meet your Home Team and apply

We'll connect you with a team of loan experts who will guide you through the process. This means you'll have a loan advisor, loan coordinator and closing coordinator with you every step of the way. After you reach out, we'll introduce you to a licensed loan advisor who will look at your information and help you decide if if it makes sense to refinance.

Our responsibilities

Help you understand your options
Start your application

Your responsibilities

Be responsive to phone calls from us
Know your credit history and financial goals

It takes 5 minutes to get started. Take the Next Step

Refinancing comes with a lot of documentation, so you and your loan coordinator will be in close contact during this time. There will be documents you'll need to submit, as well as documents you'll need to review and sign – but we've made this part a little easier by giving you the option to do this all online. What to Prepare

Our responsibilities

Provide status updates
Introduce you to the appraisal company and set up an appointment
Review your documents

Your responsibilities

Upload, review and sign documents online
Complete application
Pay appraisal company

This usually takes 1-2 weeks, but the faster you get your documents to us, the faster we can finalize approval.

This is when we look at everything you sent us and make a final decision on your loan. Your loan coordinator will provide an update every few days so you'll always know where your loan stands.

Our responsibilities

Confirm documents and review appraisal
Finalize approval
Provide rate and loan term options

Your responsibilities

Submit additional documents if needed
Lock in your rate if you haven't already

It usually takes 2-3 weeks to make sure your documents are accurate and your application is complete.

You'll meet with your closing agent to review and sign your closing documents. We'll let you know if anyone else will be joining you as the day gets closer.

Our responsibilities

Prepare closing documents
Confirm your closing date and time
Coordinate with title office

Your responsibilities

Review and sign your closing documents
Pay closing costs

Expect to spend 1-2 hours at closing.

We'll let you know within 15 days of closing who will be servicing your loan and where to make future payments. While you won't be paying us directly, the terms of your loan won't ever change and you can always reach out to us if you have any questions.