HOME
Create your urban oasis (with help from an HGTV design pro)
Think about the perfect calm corner of your favorite city. Envision a quiet place where you can collect your thoughts, put your feet up and unwind from that busy metropolitan lifestyle. Sound like a dream?

That's exactly what top HGTV interior designer Brian Patrick Flynn was envisioning when he designed the HGTV Urban Oasis® 2022.

We asked Brian to share his thoughts on what adds serenity to a space and how you can easily introduce some elevated tranquility into your own abode.

What makes a space feel like an oasis for you?
Anytime a house has indoor-outdoor living, regardless of where it's located, you get an oasis vibe. One of my favorite investments is to add a small deck to a bedroom. It can make a space feel almost double the size and add an instant resort feel.

What's a design must-have for any urban dwelling?
Not to sound like a broken record, but … indoor-outdoor space! Even if it's just an eight-foot slab outside of a bedroom, just being able to crack a door open and make a room feel a little larger is so good for peace of mind.

What was your favorite element of the redesign in the HGTV Urban Oasis 2022?
Of all the things considered with the remodel of the Nashville home, I am most proud of how light and bright the interior is thanks to all of its windows and skylights. The right windows can make a room so much more cheerful and spacious. That's the power of natural light.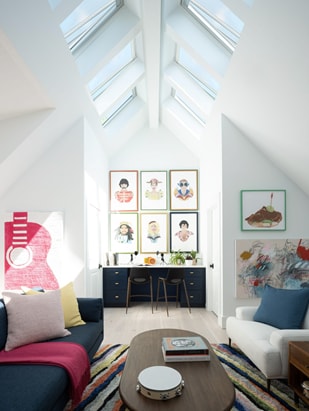 How can people showcase a great window? Or make an average window look bold and bright?
My favorite way to spotlight a window is by dressing it with drapery. Start with a rod roughly 12-18 inches longer than the window so the drapery panels frame the actual window rather than cover its edges up. Instant drama.

Make an average window pop by layering shades and drapery panels. Hang the drapery rod as high as the wall allows, then install an extra tall shade behind it and lower it just below the top of the window to create the look of a much taller one. Just like that, you've made your window and your space look so much bigger.

What are other ways those with smaller spaces can make the most of their footprint?
It's going to feel counter-intuitive, but in smaller spaces, larger sofas or sectionals are often the way to go. The less furniture you have in a small space, the more likely the space will remain open and not cramped.

What are some calming elements people can incorporate into their own spaces?
I'm a huge fan of light-colored floors, especially stained white oak. It's super understated, light and airy. And when you pair it with neutrals like light grays, sage or green blues, it can be super calming.

Any tips for incorporating plants into a space?
They're a great way to bring together the inside and the outside. When it comes to greenery, I'm a no-maintenance type of guy. One of my favorites is the monstera palm. It's remarkably easy to care for and can make an otherwise sparsely decorated room feel full.

If you're on a budget, how can you get the most bang for your buck?
One trick I like to use is to get the look of a custom rug by using several of the same rugs in a smaller size. Line them up together until you get close to the custom size truly needed, and then tape the seams from underneath. Now you have a unique piece for a fraction of the price.

Any fun ways to hang art or photos on the wall?
I like to asymmetrically arrange the art on the wall with different spacing between each piece. Allow room to mix in found objects to change up the shapes so they are not all rectangles.

Lots of people like to DIY. But are there certain home projects that should be left to the pros?
In addition to the obvious ones like electric, plumbing, HVAC (please call a professional!), I think when installing wallpaper, it's best to leave it to the pros. You can try, but remember if you misalign it, you're going to be stuck looking at crooked wallpaper for a long time.

What's a lighting trend you love?
Overscale light fixtures are an amazing way to add instant drama to a room. It's hard to top an over-the-top chandelier.

What design trends do you think will stand the test of time?
Some recent short-lived design trends (painted islands, rose gold cabinet pulls) can be fun to incorporate, but you have to be particular about where and how you use them so you're not having to update every few years.

Matte black hardware is here to stay. Blush as a neutral is also something that will never go out of style. And you can't go wrong with forest green mixed with brass.

If a city dweller only has the budget for one room makeover, where can they make the most impact?
Do the bedroom. Make it yours. Bring in a TV so it doubles as a living room and finish 100% of the decor. Regardless of what the rest of the house looks like, when you close the door, you'll have your oasis. Then, as you're able to save, you can focus on the other spaces.

No matter what the day brings — good, bad, chaotic —nothing beats having a serene space to return to at the end of the day. It doesn't hurt if it's stylish, too. Creating your perfect escape doesn't need to be complicated. With a little imagination, some hard work and a few of these tips, your home could soon be your own urban oasis.

*Ally is an official sponsor of the HGTV Urban Oasis 2022

Brian Patrick Flynn is an American television producer turned interior designer. HGTV audiences will recognize Brian from his work on HGTV "Dream Home" and HGTV "Urban Oasis." He also stars in the series "Mind For Design," which debuted in 2021 on Magnolia Network. His full-service production company FlynnsideOut, where Brian serves as Founder, Executive Producer, Set Designer, Writer and Prop Stylist, brings together his design and decorating skills to create lifestyle-related content for television.

*HGTV, HGTV Urban Oasis, HGTV Urban Oasis Giveaway and their associated logos are trademarks of Discovery or its subsidiaries and affiliates. All rights reserved. Photos © 2022 Discovery or its subsidiaries and affiliates. All rights reserved.

Inspiring stories, the latest financial discussions and helpful information to build your best possible future.