HOME
6 ways to cope with the stress of buying a house
Tips to cope with stress during the homebuying process

How to be flexible during the process

Ways to focus on the things you can control
Shoes are way more fun to try on than jeans and financing an SUV is a lot more exciting than a washer and dryer. But one major purchase eclipses all when it comes to both excitement and stress: buying a home. In fact, 40% of first-time homebuyers found the experience to be the most stressful event of their lives. That doesn't have to be the case, though.

If you're nervous about the process, these tips can keep your stress levels down and your chin up.

Focus on: Working with the right real estate agent
No rule says you have to work with an agent to buy a home, but doing so means you'll have an expert by your side. From searching to crafting your offer to negotiating with sellers, a real estate agent provides professional guidance and leverages their network and experience so you don't have to do it alone. Chances are, they've already seen any issues you may run into and will know the best way to priad.

If you decide to enlist an agent, take time to find the right one for you. Ask others for recommendations and interview several agents. Look for someone trustworthy, who has your best interests in mind, who understands your goals and who will help you achieve them.

Finally, consider working with a realtor. While both real estate agents and realtors are bound by state real estate agent laws, realtors are members of the National Association of Realtors ("NAR"), a trade association whose members promise to adhere to Code of Ethics, which includes things like honesty and putting the interests of buyers and sellers ahead of their own.

One of the more stressful aspects of buying a home is that you are not in control of the timeline. Since the process involves several steps and is dependent on many moving parts, it can take anywhere from six weeks to a year or more. Sometimes, you may find yourself on someone else's schedule — waiting to hear back on an offer, for example. The more flexible you are, the easier it is to stay patient during periods of uncertainty or if steps take longer than anticipated.

Focus on: Getting pre-approved for a loan
You want to feel prepared for your upcoming purchase — not worried you'll fall in love with a property you can't afford. Being pre-approved for a home loan can give you the confidence and reassurance you need. Pre-approval is a process in which you either informally self-report or formally submit financial documentation to a mortgage lender, like Ally Home , and they provide an estimate of the loan amount and interest rate you'll receive.

Getting pre-approved gives you a better understanding of your buying power. Plus, having a pre-approval letter in hand when you make an offer on a home demonstrates to sellers your seriousness and can give you a leg up above other buyers.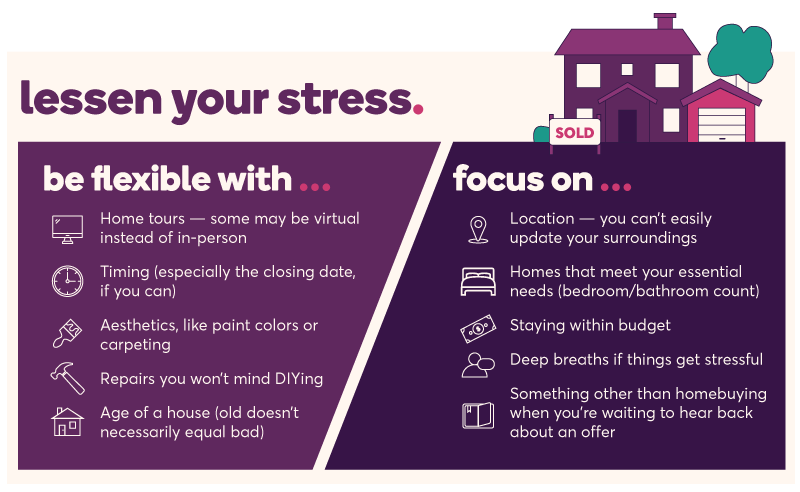 Be flexible with saving for upfront costs
You've mapped out your homebuying budget and feel confident about handling future monthly mortgage payments. But before your offer is approved and you've locked down a loan, it's hard to know exactly how much you'll need in cash up front. Your down payment and closing costs may vary depending on the final purchase price, competition and more. Because closing costs typically range between 2% to 5% of a home's price, aim to save for the higher end — just in case. And try to put away more for your down payment than you might actually need (while staying within budget). That way, you know you can handle the upfront payments when it's time to close.

Focus on: Asking all the questions
Homebuying involves a lot of paperwork and jargon, so don't be afraid or embarrassed to ask the meaning of something when you aren't sure. Similarly, don't be shy about asking sellers (or their agents) lots of questions, big or small, when considering a property. You can never have too much information about something you'll be making payments on for years to come.

Be flexible with finding the "perfect" home
When house shopping, you'll probably hear a lot of "dream home," "forever home," and "home sweet home." But what if none of the properties fit those descriptions? It can be disheartening if you can't find your ideal space — but a little perspective can help. It's unlikely you'll find a house that's completely flawless and you may have to make some concessions or prepare to make adjustments upon moving in, and that's okay.

Instead of searching for perfection, make lists of your non-negotiables and nice-to-haves and let those guide your search. Focus on finding a house with the essentials and allow your wants to be bonuses or fun improvement projects you can look forward to later.

It's expected that a purchase as big as a house comes with a lot of emotion, especially since it's something you only do occasionally. During the process, focus on what you can control (like getting pre-approved) and aim to be flexible with the things you can't (like some aspects of timing). And if things get hairy, lean into the excitement of the journey and the accomplishment you'll feel when all is said and done.

Inspiring stories, the latest financial discussions and helpful information to build your best possible future.