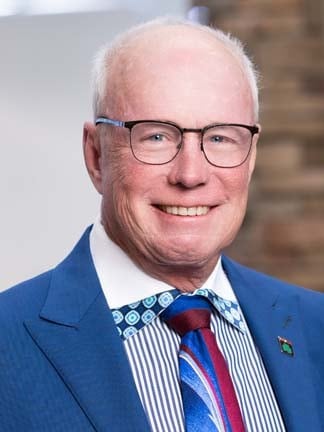 O'Meara Ford Center Inc.
Northglenn, Colorado

"Since 1913, O'Meara Motors has built its reputation on caring for our employees, our customers, and our community," nominee O'Meara said. "We truly believe that people come first, and our decisions are based on building relationships and solving problems for those that we serve."
Brian O'Meara is one of a select group of 49 dealer nominees from across the country who will be honored at the 107th annual National Automobile Dealers Association (NADA) Show in Las Vegas, Nevada, on February 3, 2024.
The TIME Dealer of the Year award is one of the automobile industry's most prestigious and highly coveted honors. The award recognizes the nation's most successful auto dealers who also demonstrate a long-standing commitment to community service. O'Meara was chosen to represent the Colorado Automobile Dealers Association in the national competition – one of only 49 auto dealers nominated for the 55th annual award from more than 16,000 nationwide.
"Since 1913, O'Meara Motors has built its reputation on caring for our employees, our customers, and our community," nominee O'Meara said. "We truly believe that people come first, and our decisions are based on building relationships and solving problems for those that we serve."
O'Meara was born into the car business. His grandfather Alfred O'Meara, son of an Irish immigrant, landed a job at the Ford Motor Company in 1906 and was employee number 138. Due to health issues, his grandfather moved to Denver, Colorado, in 1913 and became the state's first Ford dealer. In 1938, O'Meara's father Al took over the family business at age 22.
"I started my employment in 1962, washing cars and sweeping floors," he said. After graduating from Denver University in 1970 with a B.S. in marketing and accounting, O'Meara joined his father full-time in the dealership, which had moved to its current location in Northglenn. He was named general manager in 1974 and president in 1979. Today, he oversees O'Meara Motors, which also includes O'Meara Volkswagen and O'Meara GMC, both in Thornton, Colorado.
In recognition of their important contributions to the auto industry, Alfred O'Meara and Al O'Meara have been inducted into the Colorado Automotive Hall of Fame while Brian was inducted into the Hall Of Fame in 2022.
"As a third-generation dealer, I have been guiding our family business for 55 of its 110-year history," O'Meara said. "The business model developed by father and grandfather continues to drive us forward."
And family is still at the core of the company. O'Meara's wife, Bonnie, has been a spokesperson and public face of O'Meara Ford Center since 1976, and two of his sons are now involved in the day-to-day operations of the auto group.
"Very few companies reach the fourth generation, but we continue to grow and prosper," he said. "Our longevity is thanks to the dedication of countless people who have worked for us throughout our history."
He added, "Our dealership is known as a training ground for successful 'car people.' Many of our current employees have been with us for more than 20 years – and some have left to become dealers themselves."
With such deep roots in the automotive industry and a unique connection to the storied history of Ford, O'Meara served on the Ford National Dealers Council and Ford Advertising Board for 10 years. He has also been a board member for the Colorado Automobile Dealers Association and NADA, where he has advocated for car dealers nationwide.
Outside of the automobile business, he has served on many boards including the Colorado University School Ophthalmology Advisory Board for 20 years.
"Most recently, I have been involved in many meetings with the Colorado Governor's Office and both state and national legislatures pertaining to EVs [electric vehicles]," he said.
O'Meara's philanthropic activities are extensive and varied. Some of the organizations he has supported include Morgan Adams Foundation which funds pediatric cancer research, a model aviation club called Sun Valley Fliers, Wings Over the Rockies Air & Space Museum in Denver, Spirit of Flight Center inIdaho, Warbirds Over the Rockies, Regis Jesuit High School in Colorado, Denver Children's Home which provides home and healing for children who suffered trauma, neglect and abuse, Food Bank of the Rockies, Denver Rescue Mission, Colorado Mental Health and many others.
"Community involvement by our employees is celebrated," O'Meara said. "We give an annual award at each of our three dealerships to the individuals who volunteered their personal time to help others."
Brian and his wife have many interests outside of the automobile business, such as technical rock climbing, Argentine Tango Dancing and hiking. They have climbed many of Colorado's 14,000 mountains and have also climbed Mount Vesuvius, the volcano outside of Naples Italy. Brian and Bonnie both fly the Cirrus SR22T and Brian has his instrument rating.
Dealers are nominated by the executives of state and metro dealer associations around the country. A panel of faculty members from the Tauber Institute for Global Operations at the University of Michigan will select one finalist from each of the four NADA regions and one national Dealer of the Year. Three finalists will receive $5,000 for their favorite charities and the winner will receive $10,000 to give to charity, donated by Ally.
In its 13th year as exclusive sponsor, Ally also will recognize dealer nominees and their community efforts by contributing $1,000 to each nominee's 501(c)3 charity of choice. Nominees will be recognized on AllyDealerHeroes.com, which highlights the philanthropic contributions and achievements of TIME Dealer of the Year nominees.

"At TIME, we are proud to uphold the decades-long tradition of honoring automotive dealers who make a positive impact and show dedication to their communities through our TIME Dealer of the Year award," said TIME CEO Jessica Sibley. "We are excited to keep this tradition of applauding these community contributions together with our partners at Ally."
Doug Timmerman, president of dealer financial services, Ally, said, "Auto dealers nominated for the TIME Dealer of the Year award have demonstrated an unwavering commitment to not only the industry but to their respective communities through volunteerism, sponsorships, and supporting charitable causes, no matter the market climate. Whether their clients are purchasing a first car or upgrading for a growing family, these selected dealers have successfully extended their relationships beyond the showroom and have been steadfast in driving their communities forward."
O'Meara was nominated for the TIME Dealer of the Year award by Matthew Groves, president and CEO of the Colorado Automobile Dealers Association. O'Meara has three children and two grandchildren.