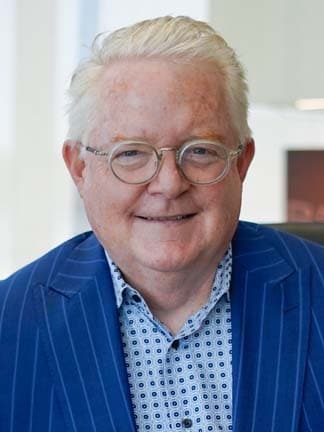 Steve Hinchcliff
ONYX Automotive
Omaha, Nebraska

"My goal is to be an auto dealer of choice and an employer of choice, and we work diligently to be a positive force in our community and in our company."
Steve Hinchcliff is one of a select group of 49 dealer nominees from across the country who will be honored at the 107th annual National Automobile Dealers Association (NADA) Show in Las Vegas, Nevada, on February 3, 2024.
The TIME Dealer of the Year award is one of the automobile industry's most prestigious and highly coveted honors. The award recognizes the nation's most successful auto dealers who also demonstrate a long-standing commitment to community service. Hinchcliff was chosen to represent the Nebraska New Car & Truck Dealers Association in the national competition – one of only 49 auto dealers nominated for the 55th annual award from more than 16,000 nationwide.
"I am proud to be a third-generation car dealer and have enjoyed working with many family members as partners in my 50 years in the business," nominee Hinchcliff said. "My goal is to be an auto dealer of choice and an employer of choice, and we work diligently to be a positive force in our community and in our company."
Hinchcliff earned a B.S. in business administration from the University of Nebraska-Lincoln in Lincoln in 1977. His plan was to carve out a career at his family's dealership, H+H Chevrolet, originally founded in South Omaha in 1930 by his grandfather, Augie Hinchcliff.
"I started at H+H Chevrolet at age 14, cutting the dealership's lawn and picking up cigarette butts in the parking lot," he said. "I am very fortunate to have grown up in an auto dealer family as it allowed me to get an early start learning the business from many, many different positions. I never suffered from lack of career direction; I always knew what I wanted to do and that created the foundation for leading our business into the future."
Throughout his school years, Hinchcliff moved through fixed operations and then into sales after graduating from college. In 1988, he was named general manager of H+H Chevrolet and in 1990, dealer principal of the founding dealership.
Today, he oversees the H+H Group, which encompasses multiple dealerships representing brands BMW, Chevrolet, Chrysler, Dodge, Jaguar, Jeep, Kia, Land Rover, MINI, and Ram, as well as two Harley-Davidson stores and the H+H Shine Shop car wash. Hinchcliff's son, Jeff, is president of the group and his daughter, Lindsey Crotty, is director of the company's H+H Family Foundation.
Hinchcliff attributes the company's success to an employee-focused culture and his ability to recognize and overcome obstacles. "Our company represents the interests of 800 associates who are our most valuable asset, and their well-being is our top priority," he said. "We are committed to fostering a workplace where our associates thrive not only professionally but also personally. I have learned over the years that this is a WE business rather than a ME business."
To that end, Hinchcliff developed several initiatives, including H+H Cares (associate-supported program that provides resources to help fellow employees in times of need); H+H Invest in You (provides funds for ongoing educational opportunities and certifications that support growth and development); W.I.G. (a Workplace Involvement Group that gives associates a chance to voice their opinions about the needs of their workplace and share ideas for improvements); and H+H University (a Department of Labor-registered apprentice and certificate program for automotive technicians).
"Our holistic approach to associate wellness encompasses physical, emotional, social, financial, vocational, and intellectual well-being," he said. "When we take care of our associates, they are able to take care of others and the entire community benefits."
Hinchcliff also advocates for fellow car dealers through his role as district representative for the Nebraska New Car & Truck Dealers Association. "In Nebraska, we are very fortunate to have an impactful state association," he said. "My role is to listen to and represent larger, metro dealers and share our concerns with association leadership in an effort to strengthen our industry statewide."
And he is committed to improving his local community, mainly through the development of teens in the pre- and post-secondary education age group. To achieve this goal, Hinchcliff established the H+H Family Foundation as the philanthropic arm of his company.
"We sponsor programs that offer mentorship, career skill training, and leadership training, as well as host recurring community food and coat drives," he said. "In the most recent year, the foundation gave $50,000 in grants for youth development, fostering skills, confidence, and a sense of purpose in teen youth."
One key partner is Avenue Scholars, a program that provides comprehensive, individualized support services to Omaha-area high school students to prepare them to enter financially sustaining and high-demand careers.
The H+H Group works with Avenue Scholar's Intern Omaha initiative and guides students who choose a career as an auto technician. In addition, the company was the sole sponsor of a celebratory luncheon to honor Avenue Scholars, which was attended by students, school administrators, and business and government leaders, including Nebraska Governor Jim Pillen, who praised the program.
"Unquestionably, the development of others is what drives me," Hinchcliff said. "A person can grow in many ways and to know that their growth was impacted by their experiences with our company still excites me today. "
Dealers are nominated by the executives of state and metro dealer associations around the country. A panel of faculty members from the Tauber Institute for Global Operations at the University of Michigan will select one finalist from each of the four NADA regions and one national Dealer of the Year. Three finalists will receive $5,000 for their favorite charities and the winner will receive $10,000 to give to charity, donated by Ally.
In its 13th year as exclusive sponsor, Ally also will recognize dealer nominees and their community efforts by contributing $1,000 to each nominee's 501(c)3 charity of choice. Nominees will be recognized on AllyDealerHeroes.com, which highlights the philanthropic contributions and achievements of TIME Dealer of the Year nominees.
"At TIME, we are proud to uphold the decades-long tradition of honoring automotive dealers who make a positive impact and show dedication to their communities through our TIME Dealer of the Year award," said TIME CEO Jessica Sibley. "We are excited to keep this tradition of applauding these community contributions together with our partners at Ally."
Doug Timmerman, president of dealer financial services, Ally, said, "Auto dealers nominated for the TIME Dealer of the Year award have demonstrated an unwavering commitment to not only the industry but to their respective communities through volunteerism, sponsorships, and supporting charitable causes, no matter the market climate. Whether their clients are purchasing a first car or upgrading for a growing family, these selected dealers have successfully extended their relationships beyond the showroom and have been steadfast in driving their communities forward."
Hinchcliff was nominated for the TIME Dealer of the Year award by Loy Todd, president and general counsel of the Nebraska New Car & Truck Dealers Association. He and his wife, Michelle, have two children.