CAR
Beginners guide to car insurance
What we'll cover
Navigating the ins and outs of car insurance

Breaking down different types of car insurance

How much car insurance you may need
One thing is for certain: If you own a car, you need auto insurance. Not only is it the law in most states, but it can help protect you financially if you're in an accident. However, navigating the ins and outs of this varied landscape can be a lot, especially if this is your first car. With many different types of car insurance policies available, and a variety of factors that can impact your premium, finding the right fit for you can take time to map out. Get a head start with a guide on the basics of car insurance.

Like other types of insurance, car insurance is a contract between you and an insurer for which you pay a premium in exchange for coverage. In this case, insurance covers some of the costs if you get into an accident or your vehicle is damaged. Car insurance can cover medical expenses for you, your passengers, and occupants of any other vehicle involved. It may also cover the cost of damage to automobiles and other property.

What car insurance do you need?
The type of car insurance you need varies by the laws in your state, the value of your vehicle and your personal preferences. Common types of required coverage include:

Liability insurance covers damage you may do to someone else or their property. This type of insurance is required by most states and is typically less expensive than other types of policies.

In the event you're involved in an accident with an uninsured (or underinsured) driver, uninsured motorist (UM) and underinsured motorist (UIM) policies help cover your medical expenses.

Comprehensive and collision insurance
These two policies are often sold together and, if you are leasing your car, they may be required by your leasing company or lessor. Collision pays for your car repairs if you're in an accident. Comprehensive insurance pays for damage to your vehicle from causes other than an accident, such as from hail, theft, fire, flood, and animals. In both instances, you could have to pay a deductible prior to receiving coverage.

Personal injury protection (PIP)
PIP helps pay for medical expenses for you and your passengers, regardless if you or another driver caused the accident. Some states have no-fault insurance laws (where both parties have to file a claim, regardless of who caused the accident) and require PIP insurance. This type of insurance also helps cover additional costs such as lost wages, funeral expenses, and replacement for services lost due to injury, like cleaning or childcare.

How much does car insurance cost?
While the average annual cost of car insurance was $1,633 in 2021 and is projected to be $1,706 in 2022, the actual amount you'll pay depends on a number of factors. Where you live, how old you are, what your driving record looks like, your credit score, and what kind of car you have, all have an impact on the cost of insurance (in addition to how much and what kind of coverage you select).

The cost of car insurance consists of two main expenses — the deductible and premium. Understanding both can help you find the right coverage for you and your vehicle.

Premium: The amount you pay the insurance company for your policy.

Deductible: The amount you pay out-of-pocket for a car insurance claim before your insurance begins to pay.

Liability coverage has no deductible, but for comprehensive and collision insurance, the deductible typically ranges between $500 and $1,000. The deductible that's right for you depends on your budget and preferences.

Remember, the lower the deductible, the higher your premium will be. However, there may be opportunities to lower your premium. Be sure to inquire about discounts, such as those that pertain to students, or potential discounts for insuring multiple vehicles.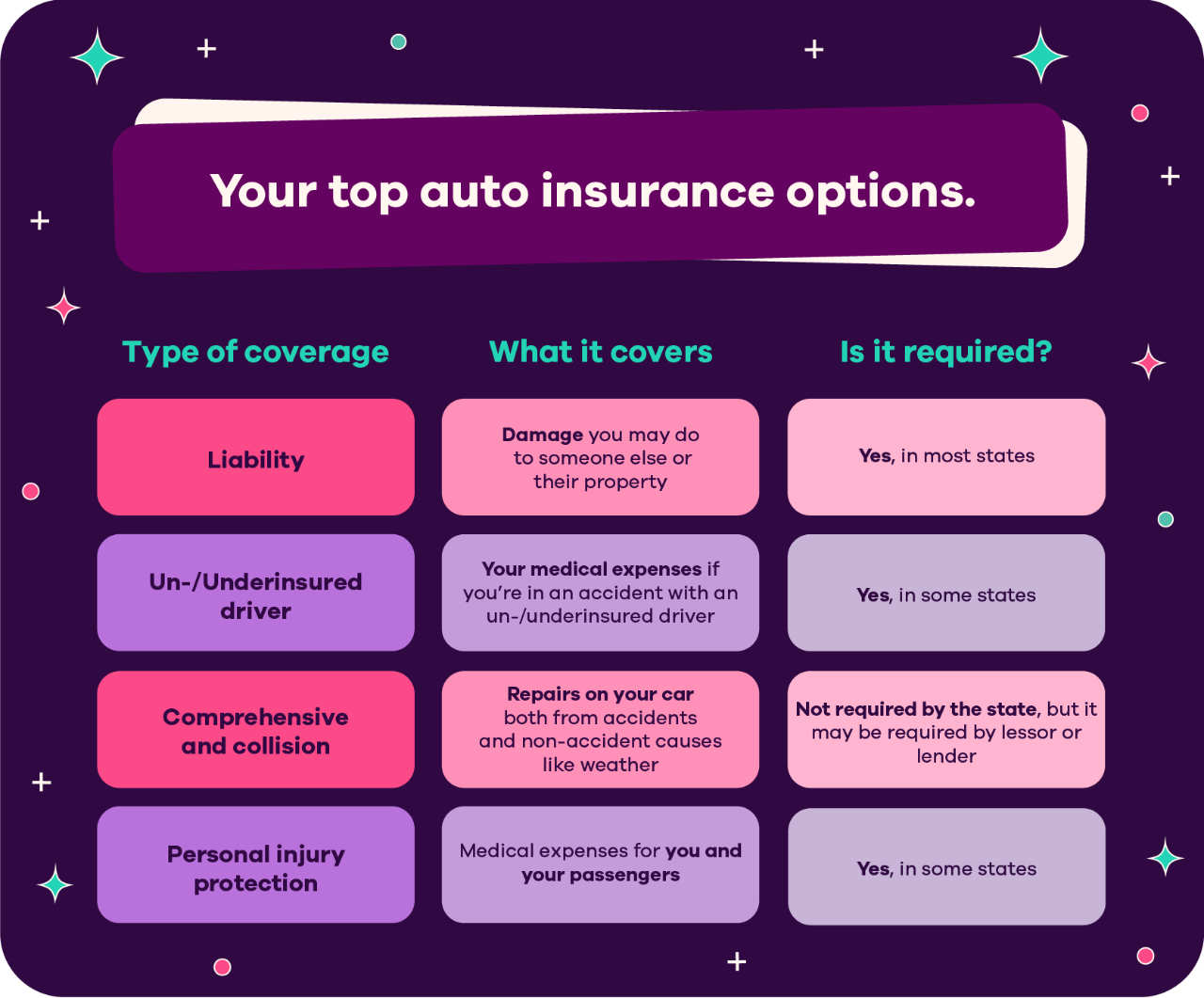 How do car insurance claims work?
A car insurance claim is a formal request for payment from a policyholder to the insurance company. A claim allows you to get compensation for loss that is covered by the policy.

A claims adjuster will be assigned to your claim. The adjuster may investigate an accident, as well as review estimates for repairs to your vehicle. And finally, they will inform you whether your claim is accepted and how much money your policy will pay for the claim.

How much car insurance do you need?
The amount of car insurance you need depends on your state, leasing or financing requirements and the value of your vehicle. Most states require a minimum of $50,000 of bodily injury car insurance coverage as well as $25,000 in property damage liability. The specific minimum required varies by state and criteria set by each individual lender. To protect yourself financially, you may need more coverage than the minimum.

When determining the right amount of coverage for you, you might consider potential scenarios and whether you'd like to be covered. Without adequate insurance, even a small fender bender could result in a large expense.

Comparison shopping is a good way to get the best rate possible when buying car insurance, either directly, through an agent, or online. In addition to price, other things to consider are an insurance company's reputation, especially when it comes to reliability. Another consideration is whether it fits your state's requirements, or those of your lender or leasing company. It is also helpful to have the information you'll need at hand when shopping for coverage, including a valid driver's license and information about your vehicle, such as the VIN number.

A great time to shop for car insurance is a month or so before your current policy is set to renew. Keep in mind, some insurers may charge penalties for canceling before the term has ended.

Hit the open road with security
Now it's time to put the information to work to protect you and your vehicle. Map out the right coverage for your car and ensure a smooth (and protected) road ahead.

Money solutions and strategies sent straight to your inbox.
Tips and tools to help you build your best financial future.
Let's Connect