CAR
How to switch your car insurance In 8 easy steps
Learn how to switch your car insurance


Compare different auto insurance rates


Notify your lender once you switch your car insurance

Auto insurance is a must for drivers, but that doesn't mean you have to stick with the same policy forever. Maybe you'd like a lower rate or just need a different type of policy to meet your automotive needs. Whatever the reason, swapping policies or insurance companies is probably easier than you think.

How to switch auto insurance
Switching auto insurance might seem like a big undertaking, but by breaking it down into manageable steps, you can streamline the process. Here are steps to help you switch auto insurance and find a policy that may be the right fit for you.

Check for potential penalties
If you are changing your auto insurance in the middle of the coverage period, you could incur penalties, such as a cancellation fee. Some insurance carriers may allow you to cancel your policy at any time with proper notice. Others may even refund your unused premium when you cancel in the middle of the coverage period. You should read all the fine print and follow up with your insurer about exact stipulations to avoid surprise costs.

When it comes to auto insurance, shopping around may save you money. Comparing rates from several different insurers can help you get a better value for the cost. Some factors to consider are the policy's premium, deductible, coverage type, and any discounts you may be eligible for. To get accurate quotes, you will likely need the following information:

Street address where the vehicle will be stored

Vehicle year, make and model

Vehicle identification number

Driver's license or social security number
Ally has teamed up with Marsh to create an auto insurance marketplace , the perfect place to compare quotes from a variety of auto insurance providers to help you search multiple policies in one place.

Research the new company before switching
In addition to a good price and adequate coverage for your needs, you may want to confirm that your new insurer is reputable. Third-party sites can help you evaluate potential insurance companies for your car by giving easy access to customer evaluations. Negative complaints, such as a difficult claims process, might be helpful.

Contact your current provider
As part of your comparison process, you may want to contact your current auto insurance provider to let them know you're considering switching. While it's unlikely your insurer will lower your rates simply to keep you as a customer, you can talk to an agent to make sure you're getting the best rate possible. This could also be a good time to check that you're taking advantage of any discounts, such as a safe driver or student discount.

Once you have a cancellation date for your old policy, set your new policy to begin the same day to help avoid any gap in coverage. Don't run the risk of getting into an accident without auto insurance. You could be charged higher fees for a lapse in coverage, so take care to ensure a smooth transition.

Cancel previous insurance
If you have already talked to your provider about your intention to switch, you may want to confirm the cancellation date. Don't assume that your current policy will lapse if you stop paying premiums. In fact, your insurer may report you for non-payment, which could affect your credit report. It may be useful to get confirmation of the termination of your policy in writing. Keep in mind that if you have any open claims, your old insurer will likely still be responsible for handling them.

Change out auto insurance ID cards
It is recommended that you drive with proof of auto insurance on you in case you get pulled over by law enforcement or are in an accident. Once you receive the card for your new insurance policy, you should swap it out for your old one so you have current proof with you. Many states now accept digital proof as well, so check with your insurer to see if you can download a digital insurance card to your phone.

If you currently have a car loan, your lender may require that you provide an update about your insurance change. A lessor may request to review your new policy to ensure it meets required minimums. You can skip this step if you own your vehicle outright without any financing or leasing.

Here's a helpful checklist to use as a guide to switching auto insurance coverage.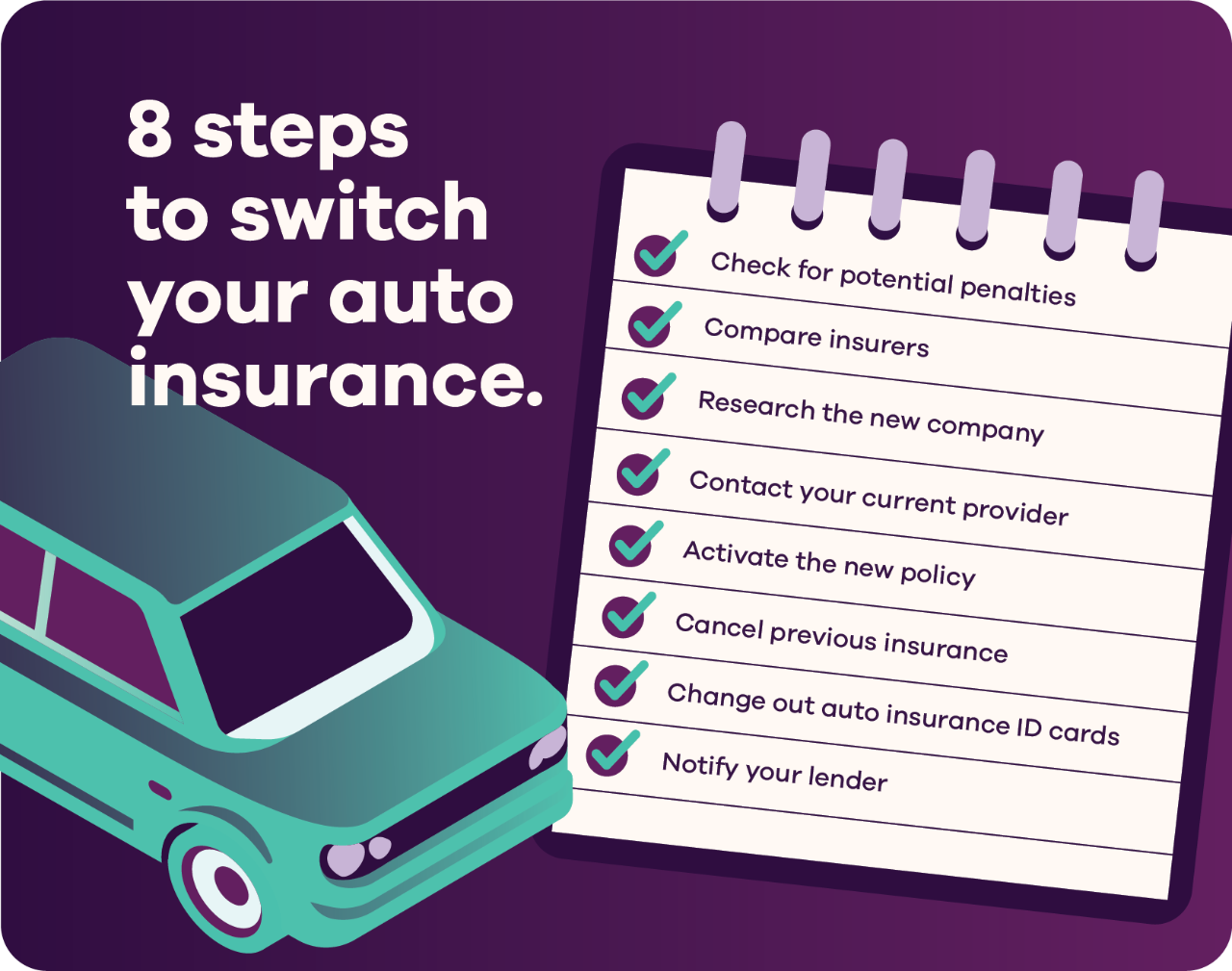 When to switch auto insurance companies
A number of situations may prompt you to change auto insurance providers. Life changes like moving, getting married or adding a teen driver to your policy are all times when you might consider switching companies.

If you're dissatisfied with your current policy because you had a poor customer service experience, have seen a spike in your rate, or want to increase or decrease your coverage for any reason, it might be time to shop around. Even if none of these scenarios apply to you, it may still be a good idea to compare auto insurers on an annual basis.

When not to switch auto insurance companies
While you can switch insurers at any time, certain times may be more advantageous than others. Some companies give loyalty discounts and switching frequently could make you ineligible for them. You should also confirm any cancellation fees, and may want to wait to cancel your policy until it expires to avoid incurring any extra charges.

Although you can switch auto insurers while you have an open claim, you might want to avoid doing so because your new rates could increase to accommodate the cost of the claim. If you've recently been involved in an accident or convicted of a traffic violation, your rates might not increase until your premium renewal time, meaning you could benefit from your pre-accident rate until that time.

Consider any loyalty or bundle discounts you have, which act as an incentive to stick with your current insurer. Another good reason to remain with your current provider is if you qualify for accident forgiveness. This benefit often kicks in after three or more years of continuous coverage, so check to see if you are eligible.

Switch auto insurance with confidence
Whether your teen just got their license, you're hoping to score better rates, or you just moved across the country, many big changes can cause you to think about changing auto insurance. Before you make the switch, do your homework to help ensure you're getting the best policy at the best price for your needs and drive into the future with auto insurance that helps have you covered no matter what's down the road.

Thinking of making a switch? Ally and Marsh have teamed up to take the guesswork out of auto insurance. Our new marketplace lets you compare quotes and get high-quality coverage personalized to your needs.

Inspiring stories, the latest financial discussions and helpful information to build your best possible future.