HOME
Want predictable payments? What to know about fixed-rate mortgages
What we'll cover
What a fixed-rate mortgage is

Types of fixed-rate mortgages

Most frequently asked questions
Homeownership can be full of unpredictability. From the real estate market to changes in family plans to extreme weather, you never know what's next. But your home loan doesn't need to come with uncertainty.
A fixed-rate mortgage has a set interest rate and predictable monthly payment that doesn't change for the duration of the loan. We've broken down this mortgage option by answering some of the most common questions below:
What does it mean when a mortgage is fixed rate?
A mortgage with a fixed rate has a set interest rate that doesn't change throughout the life of the loan — even if the Federal Reserve raises interest rates. With some other mortgage options, like a variable rate mortgage (also known as adjustable-rate mortgage or an ARM), your rate will change periodically based on interest rates.
While a steady rate may make your monthly loan payment consistent, keep in mind that other things may still affect what you owe each month. For instance, if your homeowners insurance premium or property taxes change, your payment might reflect your new costs . Those elements are beyond your control as well as your lender's, but with some mortgage loans, they are included as part of your monthly payments.
What types of fixed-rates mortgage terms are there?
While some lenders might offer more custom term options, the most common terms of fixed-rate mortgages are 15 and 30 years. Finding the right one for you will depend on how long you plan on living in your home.
15-year fixed-rate mortgages
This option will typically save you money overall. The rates are generally lower, meaning you'll pay less interest over the life of the loan. Keep in mind that your monthly payment, while predictable, will be higher than it would be with a 30-year fixed-rate mortgage because you only have 15 years to pay off the principal.
30-year fixed-rate mortgages
It might surprise you, but this is the most common fixed-rate loan option because of its lower monthly payment. (That's because repayment of your loan's principal is spread out over 30 years.) Just keep in mind that you will be paying more interest over time.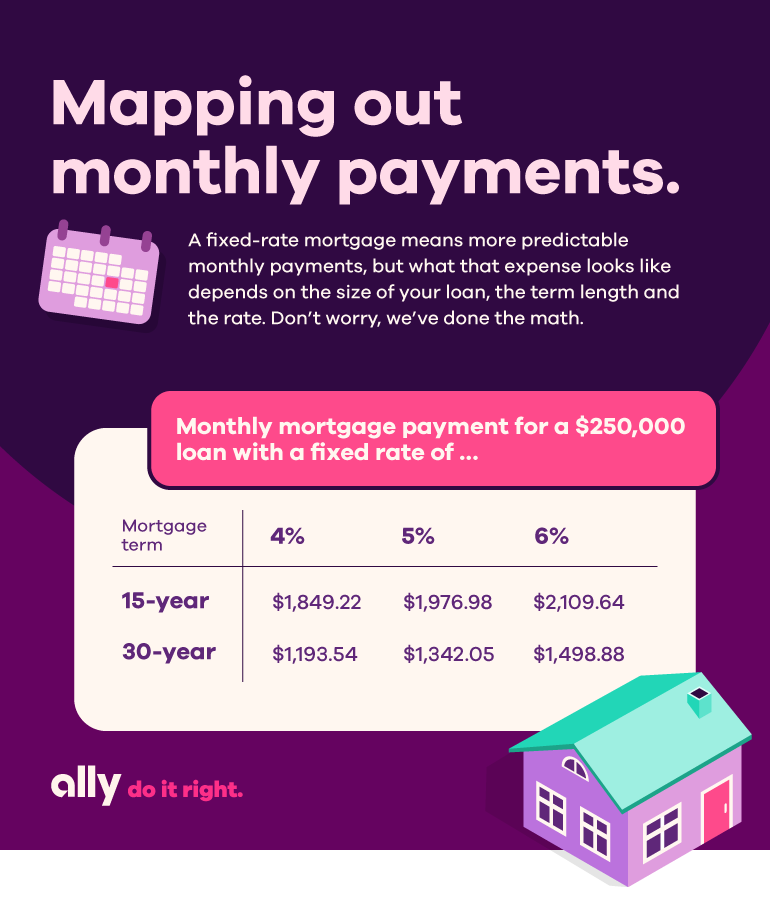 Note: The example above does not include other variable costs that may be part of your monthly payment, such as taxes and insurance.
What's the difference between a fixed-rate mortgage vs. an adjustable-rate mortgage?
The main difference between the two most common mortgage options is with a fixed rate home loan your interest rate never changes. With an ARM, your monthly payment may change throughout the lifetime of the loan, which could lower your monthly mortgage payment if interest rates drop but could end up costing you more each month if rates rise.
Can you switch from a fixed to a variable rate mortgage?
Yes, most lenders will let you change the format of your home loan, meaning you could switch from a fixed-rate to ARM or vice versa. Keep in mind some banks may charge a fee. With Ally Home, you don't have to worry about any lender fees .
What are the pros and cons of a fixed mortgage?
As with any big financial decision there are pros and cons to keep in mind that will vary depending on your financial goals:
The top fixed-rate mortgage advantages
The biggest benefit of a fixed-rate mortgage is a much more predictable monthly payment. This allows you to easily budget, knowing your monthly loan costs will not change. This type of mortgage also is easy to understand, which can be helpful for first-time homebuyers.

The top fixed-rate mortgage challenges
You may pay more initially if interest rates are high, which could make it harder to qualify for or budget for the loan. If interest rates fall, you may need to refinance to take advantage.

Is a fixed-rate mortgage right for you?
Buying a house can be a stressful but rewarding experience. Knowing your monthly mortgage payments will remain consistent throughout the lifetime of your loan can bring you peace of mind as you become a homeowner. As you consider your mortgage options , let your current financial situation and your long-term goals be your guide. At Ally Home , we're here to help you on your journey to homeownership.
Inspiring stories, the latest financial discussions and helpful information to build your best possible future.