SPEND
How an interest checking account works
What we'll cover
The basics of interest checking accounts

How they differ from other types of deposit accounts

The benefits of an Ally Bank Spending Account

Interest-bearing checking accounts are deposit accounts perfect for everyday spending with the added benefit of earning some interest. Compared to other types of bank accounts, checking accounts offer the most flexible access to your money. This type of account can play a key role in helping you manage your day-to-day finances.

How do interest checking accounts work?
Interest-bearing checking accounts work a lot like savings or money market accounts: You put money in the account and the bank periodically pays interest on your balance according to its terms and conditions. Checking accounts usually have a lower interest rate than other deposits accounts because they're designed for everyday use, rather than growing savings — but you can easily transfer funds automatically between accounts.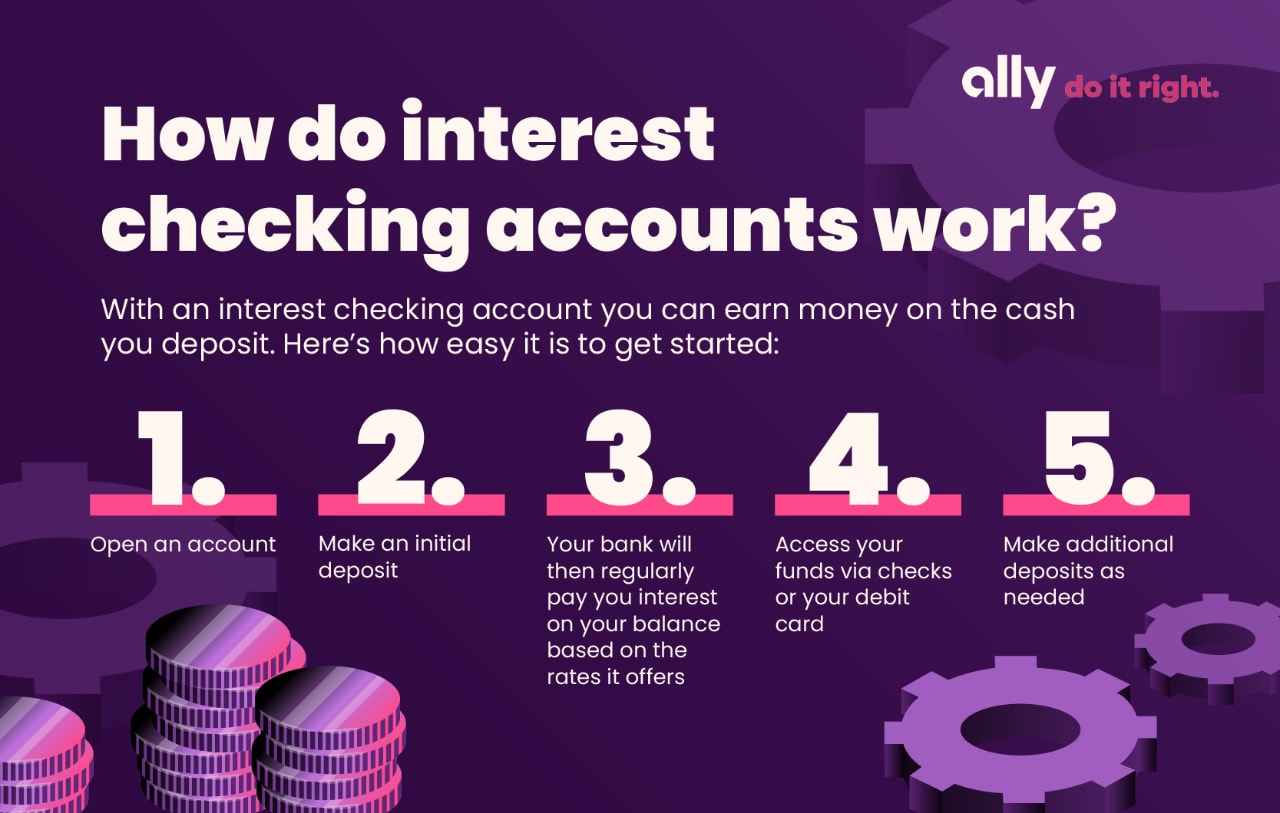 Why should I open an interest checking account?
Checking accounts, such as Ally Bank's Spending Account, allow you to withdraw money or make transfers without worrying about exceeding any limits your bank or credit union may apply to savings or money market accounts. You also can deposit additional funds as frequently as you want. However, other institutions may impose limits and fees all depending on the type of checking account someone has. They may also have minimum balance requirements or there may have a limit on your debit card usage to avoid any fees.

These features make checking accounts ideal for paying bills. You can write checks, use your debit card, make withdrawals from an ATM and request cashier's checks and wire transfers. Ally Bank's Spending Account also includes valuable features, such as early direct deposit, spending buckets and CoverDraft protection. Keep in mind, CoverDraft isn't a line of credit or a guarantee. If your purchase isn't covered for any reason (let's say the transaction exceeds your CoverDraft limit, for example), it will be declined - but we'll never charge you an overdraft fee.

And don't forget the interest part of interest checking — this account allows you to capitalize on the power of compound interest. With a little help from a competitive APY (annual percentage yield), you can be sure your money isn't remaining stagnant.
How much interest does a checking account pay?
Interest checking accounts aren't known for offering extremely high interest rates, but you can still expect to earn something on the balance you maintain. Ally Bank's competitive rates provide a favorable APY on your checking account balance.

You probably already use a checking account for your day-to-day expenses and bills, but are you getting as much out of it as you could? By taking a closer look at what an Ally Bank Spending Account has to offer, you can better optimize your finances.