SPEND
How an interest checking account works
March 27, 2023
5 min read
What we'll cover
The basics of interest checking accounts

How they differ from other types of deposit accounts

Pros and cons of interest checking accounts
When you think of earning interest on your money, your checking account probably doesn't come to mind. But with an interest-bearing checking account, you have the benefit of earning interest without the transaction limitations that can come with savings accounts and certificates of deposit (CDs).
Compared to other types of bank accounts, checking accounts offer the most flexible access to your money. This type of account can play a key role in helping you manage the day-to-day ins and outs of your finances, so it can be important to ensure yours has the features that can help you reach your goals.
How do interest checking accounts work?
Let's start with the basics. Interest-bearing checking accounts work a lot like other deposit accounts, such as savings or money market. You put money in the account and the bank periodically pays interest on your balance according to its terms and conditions.
Because checking accounts are designed to give you easy access, there are several ways to add to your balance. Most banks offer direct deposit for your paycheck or Social Security deposits. Banks with a mobile app allow you to add checks remotely , and, of course, you can always visit an ATM or branch in person — or mail a check to your bank for credit to your account.
You can usually transfer money between your checking and your other accounts. You also can automate transfers to more easily manage set amounts going in and out.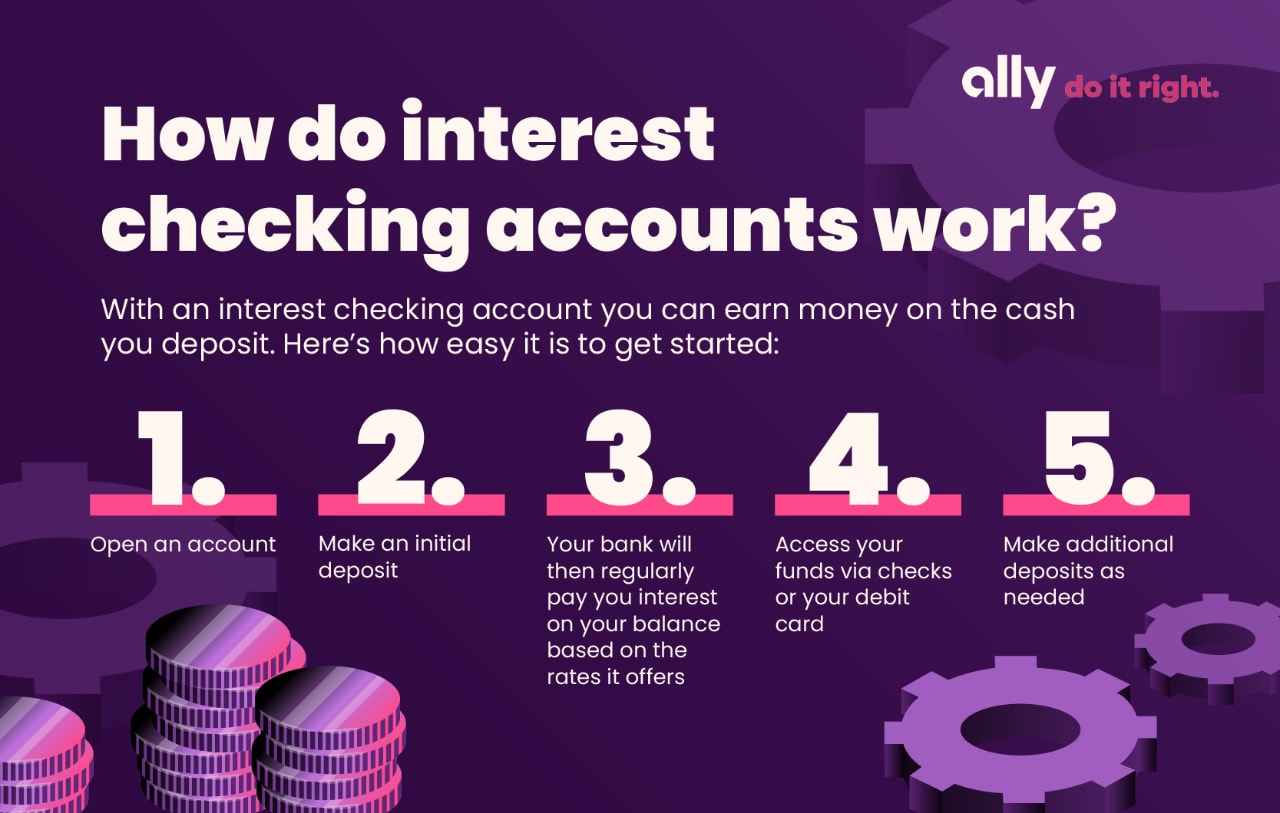 What are some pros of an interest checking account?
Checking accounts allow you to withdraw money or make transfers without worrying about exceeding any limits your bank or credit union may apply to savings or money market accounts. You also can deposit money as frequently as you want, unlike with certificates of deposit (CDs).
These features make checking accounts ideal for paying bills. You can write checks, use your debit card, make withdrawals from an ATM and request cashier's checks and wire transfers.
And don't forget the interest part of interest checking — this account allows you to capitalize on the power of compound interest. With a little help from a competitive APY (annual percentage yield), you can be sure your money isn't staying stagnant.
Are there any cons to having an interest checking account?
In general, interest rates on checking accounts will be lower than on savings and investment accounts or CDs. Some banks may implement monthly requirements to earn the interest on a checking account — such as a certain number of debit card transactions and a direct deposit — and you may be charged fees if you don't meet minimum balance requirements. Another potential drawback of an interest checking account is a possible cap on the amount of money that will earn a competitive interest rate.
How much interest does a checking account pay?
Interest checking accounts aren't known for offering extremely high interest rates, but you can still expect to earn something on the balance you maintain. It may be time to shop around if you're earning less than a competitive rate — or worse, nothing at all — on your checking account balance.
Find the most competitive rates by comparing APYs online . Be sure you understand all the terms of any account you consider, and take note of things like vanishing promotional rates, maintenance fees and minimum balance requirements. Also look to see if the bank or credit union will offer features like overdraft protection.
How do you open an interest checking account?
Shop and compare to make sure you're getting the best rate. You should also check the bank you choose is insured by the Federal Deposit Insurance Corporation (FDIC).

Gather the personal information you'll need to open an account, including your full name, social security number, date of birth, residential street address and transfer information for your initial deposit.

Open the account and make your first deposit.
The benefits of an Ally Bank Interest Checking Account
With an Ally Bank Interest Checking Account , you'll get an FDIC-insured account with no overdraft fees, no monthly maintenance fees and no minimum balance requirements. You can make deposits remotely from your phone.
To help you confidently manage your money and keep track of your expenses, Ally introduced spending buckets to allow you to organize your spending by different categories. Spending buckets are a feature of Ally Bank's Interest Checking Account and are basically a digital version of the envelope budgeting method. You can set aside money for specific expenses, such as rent, groceries or entertainment.
You can create up to 30 different buckets within your Ally Interest Checking Account. Spending buckets eliminate the need for multiple accounts or spreadsheets to help you stick to your budget.
Early Direct Deposit and overdraft coverage
Early direct deposit , a feature of Ally Bank's Interest Checking Account, offers eligible direct deposits up to two days sooner. But if you do overdraw your account, Ally not only never charges overdraft fees, CoverDraft SM has you covered with up to $250 in temporary relief for common transactions. Keep in mind, CoverDraft isn't a line of credit or a guarantee. If your purchase isn't covered for any reason (let's say the transaction exceeds your CoverDraft limit, for example), it will be declined — but we'll never charge you an overdraft fee.
You probably already use a checking account for your day-to-day expenses and bills, but are you getting as much out of it as you should? By taking a closer look at all interest checking accounts have to offer you can better optimize your account and your finances.