CAR
First-time driver? How to get auto insurance
What we'll cover
Find out what first-time car insurance buyers should know

Tips for common car insurance coverages and discounts

Best ways to help save on auto insurance
Is there anything quite like the freedom of the open road? If you're a new driver, with your first car, it can be hard to resist the temptation of a road trip. But before you take off in your first set of wheels, don't forget about one important thing: auto insurance. As a new driver, you may have some questions about coverage, what you need and how to get it. Here are a few things you need to know about buying auto insurance for the first time.

What information you'll need to get auto insurance the first time
When you shop for auto insurance, you'll need some information on hand. Make sure you have your street address where the vehicle will be stored; the vehicle year, make and model; vehicle identification number (it's also referred to as the VIN); and your driver's license or social security number.

Insurers will also need your date of birth and may inquire about your occupation, education level, marital status and driving history. Many factors like your age and location could influence your auto insurance rate.

Why first-time drivers pay more for auto insurance
When you get a quote for auto insurance for the first time, don't be surprised if you have a little sticker shock. Experience pays, and when it comes to car coverage, a longer driving record (with no or fewer accidents and/or violations) generally translates to lower rates.

Experienced drivers are considered at lower risk of getting into an accident or filing a claim. Once you have some time on the road under your belt, your rates will likely come down. Some carriers even offer safe driver discounts — a lower rate in exchange for going a certain amount of time without an accident or driving violation.

How much coverage do you need?
The amount of auto insurance you need depends on a number of factors. Most states in the U.S. have a minimum amount of auto insurance required. Many may require a minimum of $50,000 of bodily injury coverage as well as $25,000 in property damage liability. But you might want more coverage than the minimum required by your state. Unless you own your vehicle outright, your lessor/lender could also have coverage conditions. The value of your car could also have an impact on the amount of coverage you need. Newer, more expensive cars are sometimes seen as riskier for insurance companies, and often require more coverage. You should also evaluate whether you'd be covered if someone else caused an accident, potentially leaving you with a large expense you're not prepared for. Consider state requirements, your budget and the cost of your car when deciding on the appropriate amount of coverage.

What's the best way to save when buying auto insurance?
Comparison shopping can help you get the best price and coverage for you, so be sure to do your homework and get multiple rate quotes before buying auto insurance. It's also helpful to factor in the policy's premium, deductible, coverage type and any discounts you may be eligible for. Maintaining a clean driving record is another way to take advantage of the best possible rate.

And don't forget to ask if you're eligible for any discounts. Some common discounts are for students, veterans, safe drivers and new cars. If you have renters' or homeowners' insurance with the same company, you may be eligible for a multi-policy discount with the same provider.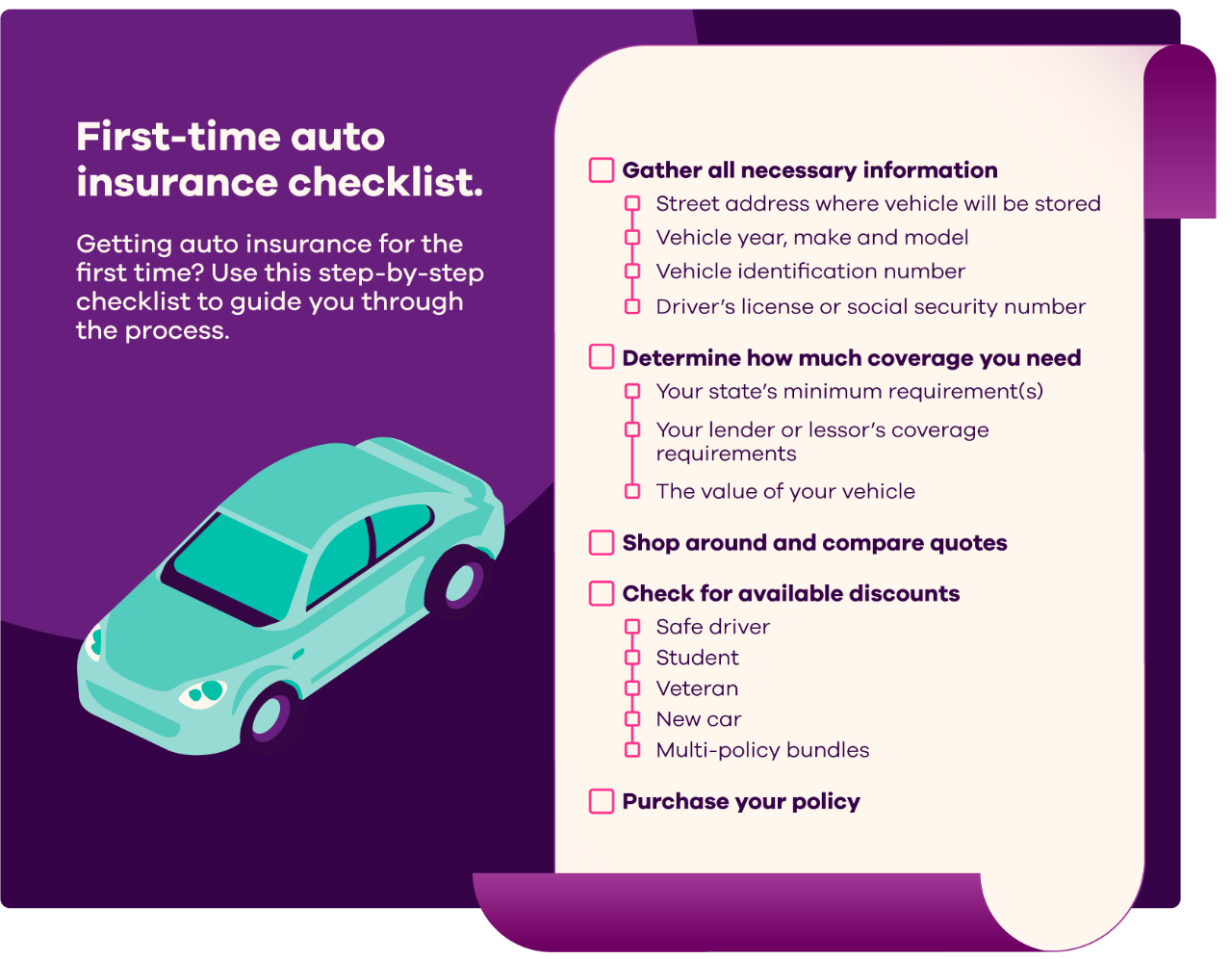 Still have questions? Here are some common queries for first-time auto insurance customers.

How do you get an auto insurance quote for the first time?
You can get an auto insurance quote directly through an agent or online. Ally and Marsh have launched a new marketplace that allows you to compare rates as well as buy coverage personalized to your needs.

How much is auto insurance for first-time drivers?
The cost of auto insurance can vary depending on if you are applying for your own, separate policy, or if you will be included on a family plan. For example, a 17-year-old applying for their own, separate policy could be paying twice as much as they would if they were added to a family policy. Age is a significant factor in the cost of auto insurance. The national average premium for a 16-year-old driver is $3,343, and by age 25, that figure drops to $862.

Can you buy auto insurance from a car dealer?
You may be able to purchase auto insurance from the dealership. If you lease or finance your car at the dealership, your lessor or lender will likely have auto insurance requirements and may offer to purchase a policy directly. Keep in mind that it might not be the best deal available, so it may be wise to shop around first.

Get auto insurance right on the first try
There's a first time for everything and buying auto insurance is no exception. Do your research to make sure you're getting the right coverage as required by law and to meet your needs at the best possible price. You may be a rookie now, but you'll be an experienced (and safe) driver in no time.

Inspiring stories, the latest financial discussions and helpful information to build your best possible future.