CULTURE
Moguls in the Making: Mobilizing the next generation of entrepreneurs
Economic mobility, or should we say immobility, has an impact on everyone. But, its effects weigh heaviest on those who are often underrepresented in our society: Racial minorities and people from other underserved socio-economic groups are often economically immobilized.

As another step in the right direction, we at Ally launched a new entrepreneurship competition, Moguls in the Making. In collaboration with the Thurgood Marshall College Fund and the Sean Anderson Foundation, this exciting opportunity is our way of helping to foster a better way forward for young, up-and-coming entrepreneurs from our nation's publicly-supported historically black colleges and universities (HBCUs).

Watch the video below to hear what our summer interns had to say about their experience participating in Moguls in the Making and being a part of the Ally team.

Committed to a better way forward
We're thrilled to have two wonderful organizations working with us, the Thurgood Marshall College Fund and the Sean Anderson Foundation, that share in our commitment to helping young adults realize their true potential. The Moguls in the Making program is a collective effort to help equip HBCU students with the skills needed to achieve economic success. It's about creating an opportunity to help mobilize the next generation of entrepreneurs.

"We believe so much in this idea of economic mobility," says Andrea Brimmer, chief marketing and public relations officer at Ally. "Anybody can write a check, but it takes a special company to do the right thing."

We're simply not satisfied with the fact that there are groups that lack access to the education, tools, and resources that help to build a desirable path forward – in society, business, and in life. We want to be part of the solution, fostering efforts that help increase opportunities for economic growth and education so that everyone has a chance to realize their dreams.

"This program is our opportunity to teach the next generation how to be smarter with their money and make a better way forward for themselves" says Andrea.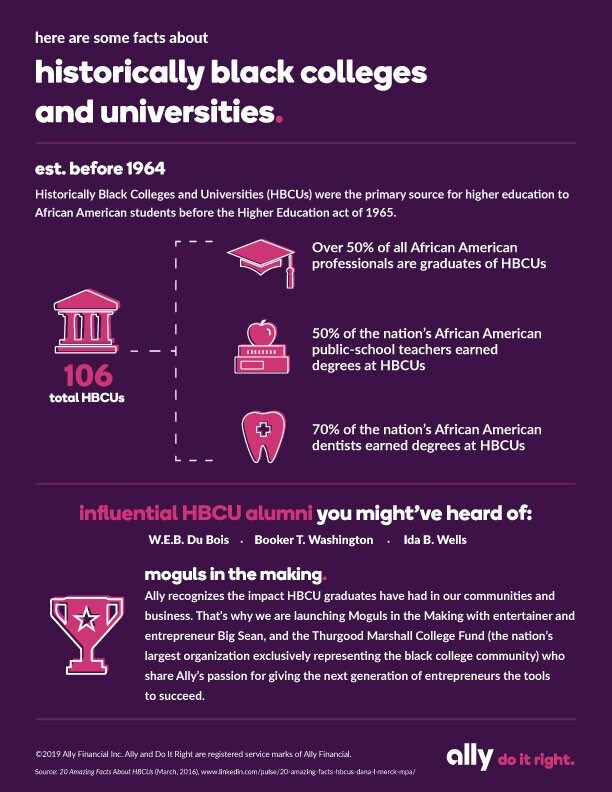 Moguls in the Making – an entrepreneurship competition
Over the course of one weekend this past spring, selected students from publicly-supported HBCUs had the opportunity to represent their schools and compete against other student entrepreneurs. The team-based competition took place during March in Detroit – a city that knows the true value of entrepreneurial grit.

In a dynamic team setting, students developed and pitched a full business plan to a panel of judges, including Big Sean, a model entrepreneur (and a Detroit native). There was, of course, some healthy competition – but that's entrepreneurship.

Throughout the weekend, each student gained exposure to real-world business tactics and was mentored by some of our best Ally associates.

The Thurgood Marshall College Fund searched all 47 of its publicly-supported HBCU member-schools nationwide to identify the top ten schools to compete in the weekend-long experience. A total of fifty students – five from each of the ten selected schools – represented their schools and competed against their peers.

We were so impressed by the talent we saw at the competition this year — the students put all their efforts into presenting successful pitches, and their work made this inaugural year such a success. Among the prizes awarded at the competition was an internship opportunity with Ally during the summer of 2019, and we were thrilled to be able to grow our relationship with our "moguls in the making," continuing to mentor them and foster their talents .

Our summer interns had the opportunity to contribute to the team in ways that catered to their skillsets, whether in film producing, writing, or strategic thinking. Their appetite for knowledge and their enthusiasm for doing it right were an inspiration to us, and we consider ourselves lucky to have worked with and learned from them.

Money solutions and strategies sent straight to your inbox.
Tips and tools to help you build your best financial future.
Let's Connect