HOME
Renovation, decor and repairs: 5 home improvement trends
What we'll cover
The home improvement landscape

Top home improvement trends

How homeowners can get in on next-gen renovation
Out of the many benefits of home ownership, one of the most fun is the freedom to redesign and renovate as much as you want. Yes, the wealth-building and tax benefits are also great, but who doesn't love picking out new paint colors or daydreaming about hardwood floors?

While the last several years have seen a surge in home improvement projects, research from the Remodeling Futures Program at the Joint Center for Housing Studies of Harvard University predicts many homeowners will scale back remodeling plans over the course of 2023. Despite the slowdown, the remodeling market is still expected to reach $450 billion. If you are part of the crowd moving ahead with home renovation projects, consider these trends as you map out your makeovers.

1. The kitchen is the heart of the home update.
As homeowners build their renovation wish lists, it's no surprise that kitchen remodeling is at the top for many. Not only can it make the biggest impact on the style of your home, but it's also a way to increase its value. And if you're ready to swap out the heart of your home, there's no shortage of new design trends to be on the lookout for. The latest in kitchen fashion has something for everyone: eco-friendly designs (think: recycled and sustainable materials), a focus on maintaining vintage design, maximizing small spaces and more.

2. Renovation, decor and repairs are in the lead.
Home projects come in all kinds of shapes and sizes from the smallest of refreshes to full-on additions. Right now, most homeowners are zeroing in on renovating, decorating and repairing. And for most homeowners, renovations are the priority. These transformational projects include the ever-popular kitchens, but living room, bedroom and bathroom reno projects are not far behind.

3. Landscaping and energy efficiency are playing catch up.
We've all built those to-do lists with the best of intentions only to not quite get to everything on them. For many homeowners, outdoor projects were the items they weren't able to check off last year. Now, it's become a top priority. Whether it's a new patio to build out entertaining space or the addition of rose bushes in the front yard, projects focused on giving outdoor spaces a facelift are top of mind. Homeowners are looking to boost curb appeal through DIY lawn maintenance and landscaping.

Many projects are also taking advantage of new federally funded
incentives for more energy-efficient homes. These clean energy retrofits include everything from new windows to solar panels to home batteries. If you've been considering a clean tech upgrade, now might be a perfect time.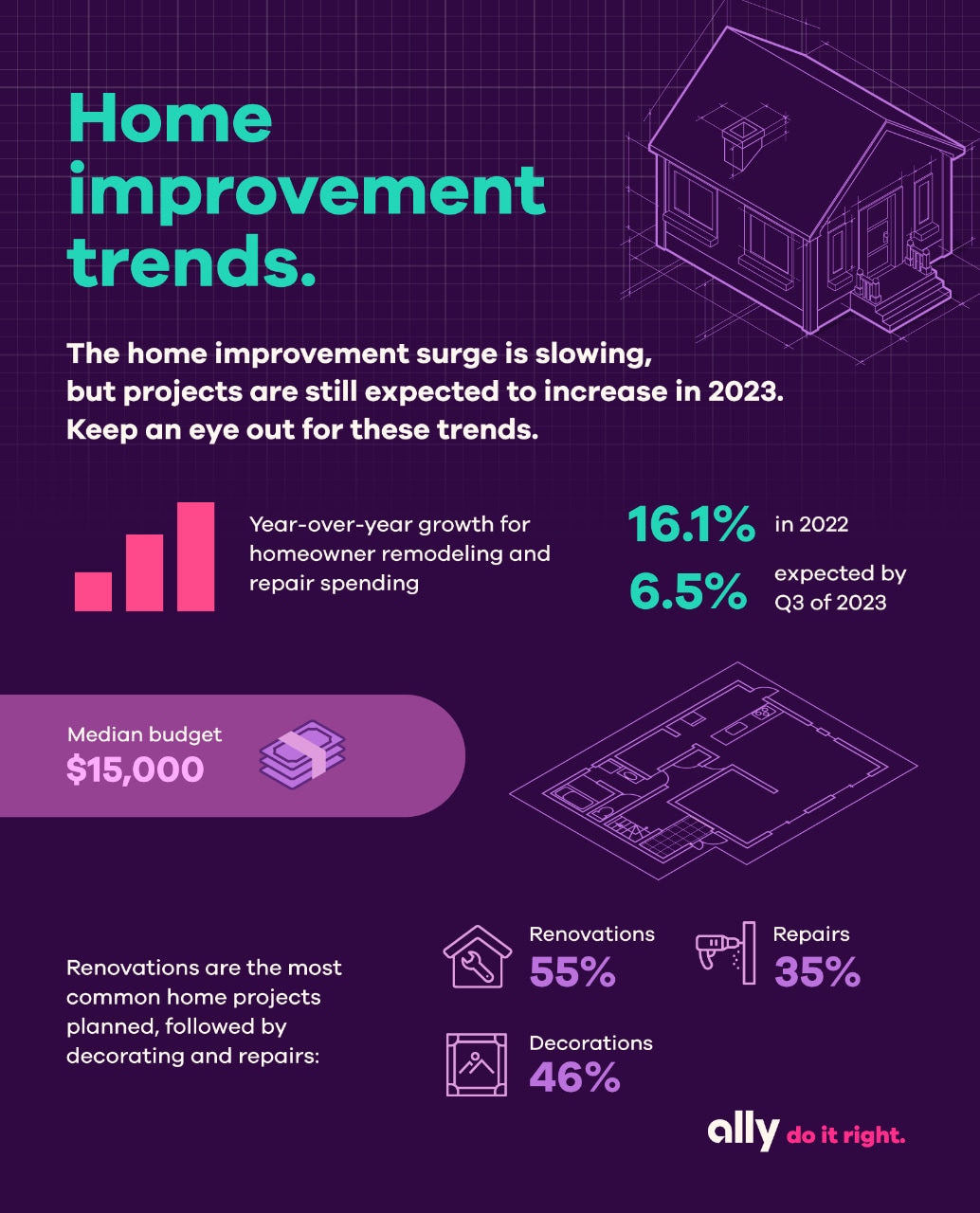 4. AI is transforming renovation projects.
Technology has transformed the way we design our homes in so many ways, but what if we told you a robot could help plan your next kitchen? Artificial intelligence (AI) is already making that possible. While you might not have an automaton picking out your paint color any time soon, AI is assisting architects and designers with engineering, home inspections and more. Computers can't quite match human creativity, but they can help expedite more precise tasks that can hold up projects and cause delays.

5. Renovation hurdles hold back some home projects.
While many homeowners are moving ahead with remodels and renovations, some common concerns are getting in the way of others. Home service database, Angi, found that rising costs, supply chain slowdowns and low availability of professionals were among the top challenges for homeowners.
If you're waiting on supplies and labor, consider using the time to build out a budget so you're ready to go once the supply-chain stars align. While budgeting can't solve all of these problems, it can help you map out the costs of those what-ifs just in case.

If you're daydreaming about gleaming new kitchen cabinets and countertops, a fun new paint color for your half-bath or a patio you can lounge on for summers to come, you aren't alone. Finding the next design project that fits your style and your budget is one of the many joys of home ownership.

Inspiring stories, the latest financial discussions and helpful information to build your best possible future.