SPEND
Why Ally Bank eliminated overdraft fees
During 2020 – the height of the pandemic – U.S. consumers were charged $12.4 billion in overdraft fees by our nation's banks. The majority of these fees were paid by individuals living paycheck to paycheck or with consistently low balances. To truly live up to our name at Ally Bank, we knew it was time to act as a force for change.

Why? Early in the pandemic, Ally Bank temporarily suspended overdraft fees as part of a larger relief program to help our customers deal with the stress of COVID-19. Little did we know what a powerful impact our decision would have.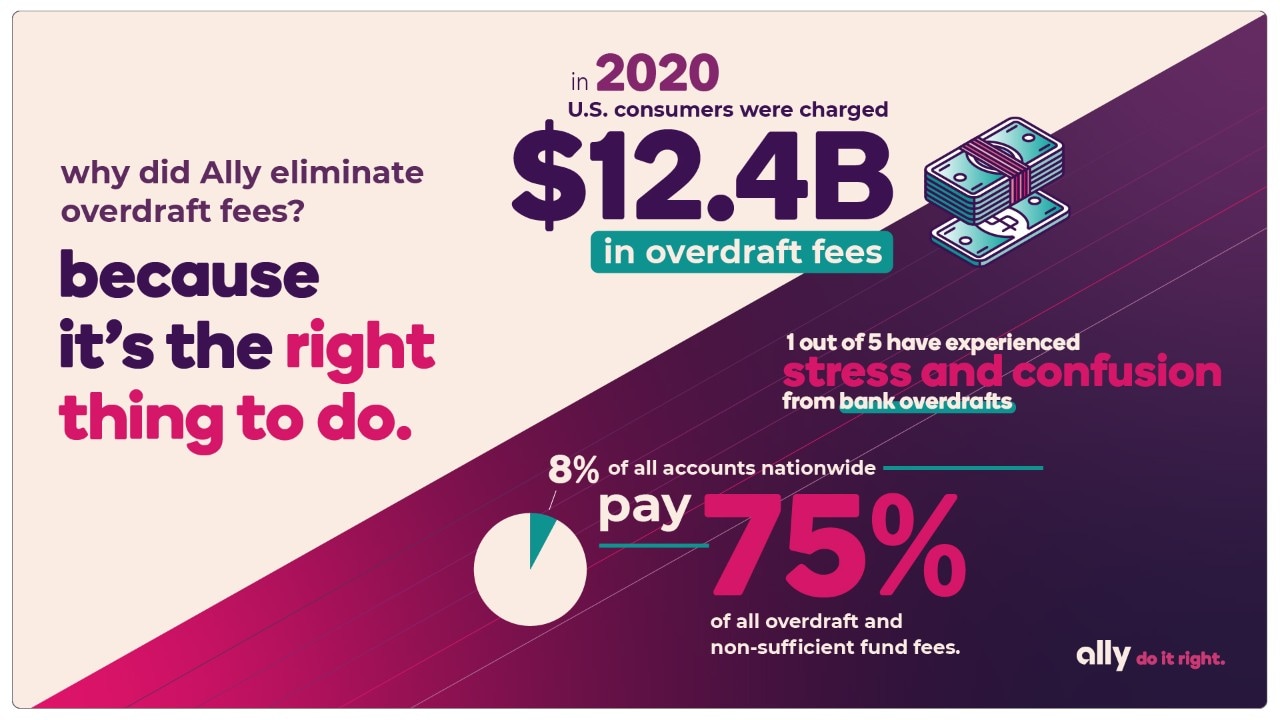 An Ally for our customers
We received thousands of emails from customers telling us how much the 2020 overdraft fee waiver meant to them and their families. One mother, who was drowning in bills, told me how that extra bit of money enabled her to care for her kids when she had begun to lose hope.

The overpowering sense of relief we witnessed was so great that our leadership team decided to remove overdraft fees permanently. It was a small but significant step with immediate impact – a step I was happy and, quite frankly, proud to take.

Since we launched Ally Bank in 2009, we've worked tirelessly to make banking simple, transparent, and as stress-free as possible. There is no doubt that removing overdraft fees will have a positive impact on all Ally Bank customers
The why is simple. Doing it right is our passion. Daily, we research, design and build digital financial solutions that make a difference in our customers' lives. Ally Bank is redefining the financial service industry and helping nearly 8.5 million individuals achieve their financial goals.
Overdraft fee elimination is just one of many ways we are empowering consumers on money matters. After all, financially vulnerable and Black and Brown households have paid a disproportionate percentage of overdraft fees for far too long. The Consumer Financial Protection Bureau found that just 8 percent of all accounts nationwide pay a staggering 75 percent of all overdraft and non-sufficient fund fees.

Challenging the status quo
Our research shows that removing financial complexity is the best way to help people move up the financial continuum. That's why at Ally Bank you won't find overdraft fees OR monthly maintenance fees; minimum balance requirements; or charges for incoming wire transfers, standard or expedited ACH transfers or official checks.
At Ally Bank, processes are simpler. Jargon is minimized. And equipping you on your financial journey is our priority as we guide, simplify and demystify what it takes to be financially independent. Because an understanding of all things money improves a person's finances and quality of life.

Diane Morais is Ally's President of Consumer & Commercial Banking. She joined Ally in 2008, and is responsible for driving the growth, profitability, and digital evolution of Ally's consumer and commercial banking products. She has oversight of the Deposits, Online Brokerage and Wealth Management, Mortgage, Ally Lending and Corporate Finance businesses. In addition, Morais oversees the company's digital and customer care channels, as well as the Community Reinvestment Act (CRA) program.
Morais was instrumental in the creation and launch of the Ally brand in 2009. Under Morais' leadership, Ally Bank has achieved double-digit retail deposit growth each year, and now has more than 2 million customers and over $100 billion in retail deposits. Ally has received numerous third-party accolades, including being named "Best Online Bank" in America by Money® Magazine, as well as "Best Internet Bank" and "Best Bank for Millennials" by Kiplinger's Personal Finance.
Di is a member of the board of directors for Junior Achievement of Central Carolinas and Charlotte Center City Partners. In 2020, Morais was named to American Banker Magazine's '25 Most Powerful Women in Banking' list for the fifth consecutive year. Morais was also named one of the top 25 outstanding business women in the Charlotte Business Journal's 2018 Women in Business Awards. She is active in the Charlotte community, serving as an "Executive in Residence" for Queens University and volunteer for Habitat for Humanity, Charlotte Catholic schools, and Dress for Success.
Money solutions and strategies sent straight to your inbox.
Tips and tools to help you build your best financial future.
Let's Connect