Inventory Insurance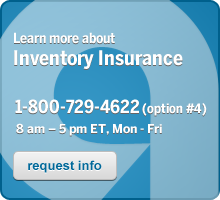 We carry a full suite of products, all serviced by industry-experienced account executives. Comprehensive, collision and false pretense plans are available.
Benefits
Economic loss coverage for collisions
Comprehensive insurance features per vehicle and per loss aggregate deductibles
Pricing based on a dealership's loss experience, location, size, deductible and other factors
Includes coverage to move vehicles out of harm's way in the event of a developing hurricane or flood
Ally Wholesale Floorplan Insurance
Protection against inventory loss or damage caused by weather, theft, or vandalism for Ally floorplanned and dealer-owned inventory.
Benefits
No limitation on the value at any one location
All demo vehicles, shop vehicles and daily rentals are covered
No monthly reports of values required (we'll update your inventory reports for you)
See all the benefits

Collision

Extremely low rates for all types of insured vehicles
No need for "drive away" collision

False pretense/ Identity theft

Identity theft and forged titles covered
Copy of customer's driver license or photo ID is not a condition of coverage

Economic loss

Coverage up to $2,500 and reimbursement toward a new covered auto or demo that has miles added to the odometer

Spot deliveries

Coverage applies until the sale is final
Customer's proof of insurance to substantiate a claim is not required

Parts and labor

Payments are equal to 90% of the standard labor rate and 75% of the standard parts cost
100% parts and 100% labor available for an additional charge

Dealer holdback

Available on total losses to new vehicles and demos
Motors Inventory Coverage
Available to franchised automobile dealerships to protect vehicles that are not financed and insured under the Ally Wholesale Floor Plan program.
See the details

Coverage

Comprehensive
Collision
False Pretense

Typical Vehicle Types

Inventory
Demonstrators
Shop - Rental

Pricing

Coverage for each dealership is individually priced based on a number of factors, including:

Individual dealership loss experience
Location of the dealership
Size of dealership - limits of exposure
Deductibles chosen
Loss Prevention and Control Consulting
Avoid insurance deductible expenses, loss of sales and customer goodwill or even the loss of profit.
For our insured dealers – at no extra cost:
Library of bulletins and advisories outlining best practices
Tips from loss prevention experts
Loss prevention and loss control services
Need to make a claim?
Call us
1-800-225-5642
Hours of operation
Mon-Fri 8:30 am - 5 pm ET
Mail us
National Property Claim Center
P.O. Box 105706
Atlanta, GA 30348-9623
Overnight mail and expedited packages

National Property Claim Center
1000 Abernathy Road Building 400, Suite 275
Atlanta, GA 30328