SOCCER
Charlotte FC's Ben Bender on lawnmowers, fishing and his first job
March 29, 2023
3 min read
Part of: Money Clips featuring Charlotte FC
It's that time again – "Money Clips with Ally" is back with Charlotte FC midfielder Ben Bender, top pick in the 2022 MLS SuperDraft and all-around fan favorite.

Following a successful soccer career at the University of Maryland, where he amassed accolades including Big Ten Midfielder of the Year and First Team All-American, the Baltimore native is living his childhood dream of playing professional soccer. During his rookie season with Charlotte FC, he pulled in six assists and three goals – the first of which Bender celebrated with a move he is becoming known for - an excited flying kick to the corner flag. The sky is the limit for Bender – and we are excited to see how he'll expand his already impressive soccer resume.

Read more about Bender's perspective on money, his favorite thing in his wallet that's not money and what he'll always pay extra for.
What's the first thing you saved up for?
A lawnmower! My brother and I needed a new lawnmower because we always mowed the lawn in the summer and the old one was falling apart.

What are you saving up for next?
A fly-fishing rod. I want to go out west to Asheville (N.C.) to a creek or a river and hopefully catch some nice trout.

My first job is playing professional soccer for Charlotte FC. It's pretty incredible to play for Charlotte. [Playing pro soccer] has been a dream of mine since I was a young kid.

Bender has been dominating on soccer fields since he was young
What was the first soccer kit you ever purchased?
A Manchester United kit – it had a black 'V' across the chest. One of my favorite memories was watching Wayne Rooney score his bicycle goal in that kit during the Manchester derby.

What money advice would you give your younger self?
To save as much as possible so that when you have important decisions to make in the future you have enough money to spend and still be able to give to others.

How were you taught about money growing up?
My parents always taught me to save as much money as possible so that when the time comes to buy a car, a house – or something else important – you can.

What was your perspective on money when you were younger?
That it's powerful and needs to be stewarded well – if you love it too much, you're going to get too infatuated with it, but if done right, it is something that allows you to live well and to give to others.

What is something in your wallet that's not money?
If you found $50 on the sidewalk, what would you do with it?
I may or may not pick it up and take it. If it was on the sidewalk outside my neighbor's house or someone I know, I'd probably ask if it was theirs.

What did you do with your first professional paycheck?
Well, I actually didn't have a bank account at the time, so that was a little bit of a catastrophe. I probably spend most of my money on food, so I probably went to the grocery store with that first paycheck.

What's your guilty pleasure spend?
Really good food. Whether it's at the grocery store or going out to eat. I love cooking and experimenting with ingredients.

What's something you would pay extra for?
I will gladly pay extra for guac! Whatever restaurant I am at, and that guacamole can get pretty expensive so it is a lot.

Who has the best style on the team?
Andre Shinyashiki for sure. The game day outfits he will come in with – he'll come in with bright colors, different color shoes…a different hat. Andre just always has different outfits. Better style than me - I don't know if I have any style!

Bender remains focused on the sport he loves

The views, information or opinions expressed are solely those of the individuals involved and do not represent those of Ally.
SOCCER
• Sept. 28, 2022 • 4 min read
Money Clips featuring Charlotte FC's Lloyd Sam



Read Article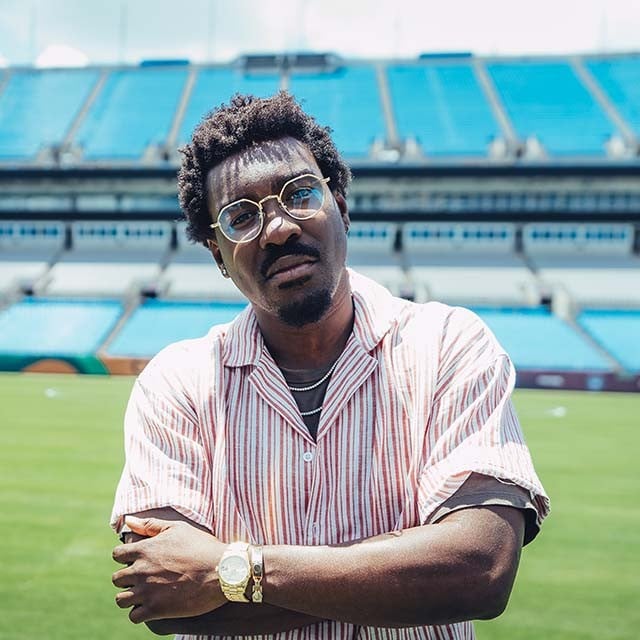 Inspiring stories, the latest financial discussions and helpful information to build your best possible future.