SOCCER
Charlotte FC's Brandt Bronico on Hot Tamales, ice cream and money advice he'd give his younger self
Jan. 19, 2023 • 4 min read
Part of: Money Clips featuring Charlotte FC
We're back with another edition of "Money Clips with Ally," where we chat with interesting people about all things money. This time Charlotte FC midfielder Brandt Bronico joins us to discuss what he'll always pay extra for and the financial advice he would give his younger self.

As a North Carolina native and UNC Charlotte alumni, Bronico is no stranger to the Queen City. After four seasons with the Chicago Fire FC, he is back in his favorite city and has quickly established himself as an integral member of Charlotte FC's starting 11.

Read on to learn how Bronico has grown personally, professionally and financially.
What's the first thing you remember saving for?
I really just remember saving money – getting $20 at each birthday and just putting it in my nightstand. I was a huge soccer fanatic when I was younger, I really loved how soccer cleats looked – so looking back I was probably saving for a pair of soccer cleats.
What's the first soccer kit you ever purchased?
The first soccer kit I ever purchased was a Didier Drogba jersey. I am a huge Chelsea fan and even getting to play them this past July was literally a dream come true – I never thought anything like that would be possible.

What's the next thing you are saving for?
My wife and I are looking into investment homes and properties – hopefully by the beach!

My first job was as a warehouse picker in Greensboro, NC. I just remember it was in the summer and I needed to make some extra money. It was 110 degrees in there. We would get sheets of 500 to 1,000 orders and we would just walk around the warehouse dragging the cart – I remember sweating through my clothes every day. It felt like it never ended!

What money advice would you give your younger self?
It would definitely be to invest earlier. I just wish I would have invested as early as possible.
Bronico began playing soccer early in his hometown of High Point, North Carolina

What was your perspective on money when you were younger?
Don't waste a dollar. When we had a dollar we wouldn't spend it, we knew we needed to save. That has changed now that I have been exposed to the investment world, but that mindset is still a good foundation.

What is something in your wallet besides money?
Like a loyalty card for ice cream or something. I know my wife and I love to go to Two Scoops Creamery pretty often, so maybe something along the lines of that.

What would you do if you found $50 on the sidewalk?
First, I would make sure no one dropped it around me. Then I would probably just put it in my wallet and my wife and I would go to Two Scoops Creamery and get ice cream!

What did you do with your first professional paycheck?
I was just out of college, so I was pretty broke. I made sure all of it went into the account so I could pay rent. I was moving to Chicago at the time, and rent up there was not cheap, so I made sure I accumulated enough to cover my expenses and live semi-comfortably.

What's your guilty pleasure spend?
Has to be Hot Tamales! I know it's kind of weird but I'm addicted to them – I can't stop eating them – so Hot Tamales for sure. I'll go to the grocery store and buy four or five boxes at a time.

Big or small - what's something you would gladly pay extra for?
My wife would say "nothing" because she says I never let us do anything. But really, whatever my wife says that we should spend more on, that's what gets the money.

Bronico and his wife on the Charlotte FC throne with his Charlotte FC jersey

Who is the most frugal player on the team?
Knowing myself, it has to be probably myself. I just know how frugal I am with what I spend – and how much I spend – so I would have to say me.

Who is the flashiest player on the team?
Just based on gameday outfits, Andre Shinyashiki. He always comes in swagged out and in a unique outfit every time.

Bronico, a powerful member of Charlotte FC, in front of the entrance to the team locker room

The views, information or opinions expressed are solely those of the individuals involved and do not represent those of Ally.
SOCCER
• Feb. 13, 2023 • 3 min read
Money Clips featuring Charlotte FC's Kristijan Kahlina



Read Article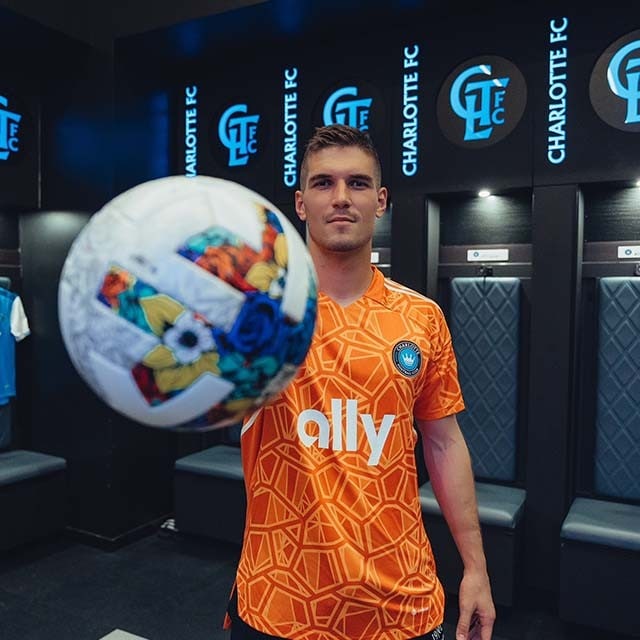 Inspiring stories, the latest financial discussions and helpful information to build your best possible future.