Ally eCheck Deposit Demo
Go to eCheck Deposit Help
To move through the pages of this demo, please select Next or Back. You can also Start Over.
What is eCheck Deposit?
Deposit checks from home or on the go
Skip the trip to the bank or ATM, Ally's eCheck Deposit lets you deposit checks anytime, using your computer or mobile device. It's easy, free and secure. Why wait in line when you can bank online anytime?
Deposit up to $10,000 per day and review your eCheck Deposit History on your computer or mobile device.
Desktop eCheck Deposit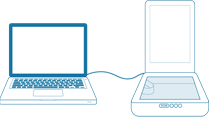 Use your desktop scanner and computer to deposit checks using our scanning wizard or manual upload features.
Learn more
Mobile eCheck Deposit

Deposit checks on the go using your mobile device and the Ally Mobile Banking app to take a picture of your check.
Learn more
What is eCheck Deposit?
Where does my money go?
You can make deposits into your:
Ally Interest Checking Account
Ally Online Savings Account
Ally Money Market Account
You can even fund new CDs.
eCheck Deposits will be processed to your account the same or next business day.
Ready to get started?
Close this window and go back to eCheck Deposit