No ATM fees from Ally
We don't have bank branches and we won't charge you to use any ATM nationwide. If other banks charge you, we'll reimburse you.
Get cash from more than 400,000 ATM locations nationwide
Use your debit card to get cash back when you make a purchase, without paying a fee
Find ATMs and cash back locations from your computer with the Ally ATM & Cash Locator
Ally Customers on the go
Find cash with the ATM and Cash Locator in Mobile Banking:
Not an Ally customer?
Don't worry, you can still find ATMs nationwide from your smartphone:
Browse to m.allybank.com/find-atms  
Already have an Ally account?
Call us 24/7 at 1-877-247-ALLY (2559) to set up your online access.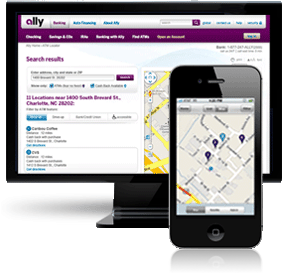 View a larger image
iPhone is a trademark of Apple Inc.
App Store is a service mark of Apple Inc.
Android is a trademark of Google Inc.
Frequently asked questions
What are Ally's ATM fees?

Ally doesn't charge fees to use ATMs nationwide. And, if you are charged ATM fees by other banks in the U.S., we'll automatically reimburse you at the end of your monthly statement period. To find a nearby ATM, use the Ally ATM & Cash Locator.