Why Bank With Us
Great rates. No branches required. Get great rates, 24/7 customer care, security you can trust and a smart, simple online banking experience on all your devices.
Open Account
Our Commitment
A relentless ally for your financial well-being
Over 9,100 teammates committed to doing it right, obsessing over the customer and tirelessly innovating to make a real difference. We find new ways to deliver financial opportunity — no matter how you define it.
Do Right.

Sincere respect for each other, our customers and communities we serve. Do for others what we expect of ourselves, with a collective desire to improve things and a genuine understanding of what really matters to customers.

Obsess Over the Customer.

Fierce dedication to putting our customers at the center of everything we do. Driven to ensure that every interaction is extraordinary, with our sole focus being what's best for our customers and their financial well-being.

Tirelessly Innovate.

Constantly creating and reinventing with the singular purpose of making a real difference for our customers.

Be Purpose Driven:

Giving back to our communities is a core part of Ally's culture. Our giving back efforts are focused on reducing barriers to economic mobility through financial education, affordable housing, workforce preparedness, and digital job training. Throughout the year employees also volunteer and donate to help those who need it most.
Rates
Get more for your money with our great rates
We're an online bank, so instead of spending money on expensive branches, we pass the savings on to you. You get the benefit of rates that are consistently competitive, so you can make your savings work harder. Compare rates
Interest compounded daily.

We grow your money faster with interest compounded daily

Consistently competitive rates.

Compare your current savings rate, and see how much harder your money could be working for you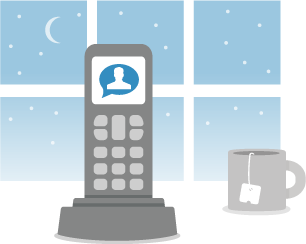 Anytime, anywhere.

Contact us by phone, live chat or secure email. Just press "0" to talk to a representative in the U.S. or Canada. Avoid a long string of prompts to find the right person

Call wait times online.

Find out if it's a good time to call by checking our website or mobile app for call wait times. Our call wait times are usually less than 1 minute

Professional service.

Our customer care team is highly trained in Ally Bank products. We won't rush you off the phone, whether you're calling to open an account or have a question

Personal care.

We thoroughly follow up with your calls and questions to give you the same level of care you'd expect at a branch
Experience
Smarter, simpler banking
No matter where you are, Ally Bank brings you an intuitive design that makes banking easy. We've fine-tuned our online banking and apps to give you everything you need in a streamlined, clutter-free experience.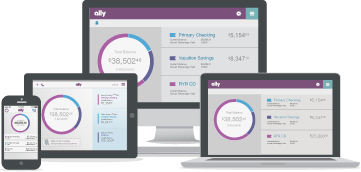 On all your devices.

Bank seamlessly across your phone, tablet and computer

It's easy.

Use your account snapshot to check your balances quickly. Take care of all your tasks with one simple menu. Switch between accounts with ease, and quickly view products and rates
Secure Banking
Banking with peace of mind
Keeping your money and personal information safe is a top priority for us.
FDIC insured.

Your deposits are insured by the FDIC up to the maximum allowed by law. Maximize your coverage

Online & Mobile Security Guarantee.

We guarantee that you will not be liable for any unauthorized online or mobile banking transaction as long as you report it within 60 days from when your statement is made available

Your information is safe.

We protect your accounts and personal information. See how we keep you safe

Free security software.

Protect up to 3 devices with Webroot® SecureAnywhere™ software, free to Ally Bank customers. Learn more about this software