Ally Dealer Rewards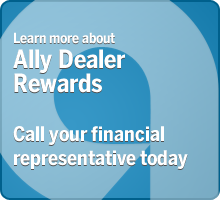 Doing business with us has it rewards. Ally Dealer Rewards provides incentives to eligible dealers for selling or using our program-qualifying products and services. The program operates under a simple idea: the more business you do with us, the more we reward you.
How it works
Eligible dealers earn cash rewards based on their performance within select Ally product groups
Dealer sales performance is recognized at multiple levels, with greater incentives available at higher levels of performance
Daily and monthly program reporting is available online 24/7
Join the Champions Club
Our Champions Club offers exclusive rewards to top-performing dealers who grow and maintain their relationships across all lines of business and retain a wholesale floorplan relationship with Ally.
To learn more about Ally Dealer Rewards, call your Ally Account Executive or send an email to DealerProgram@ally.com.