Simple transfers. What's not to love?
Transfers — move money between accounts
It's fast, easy, and safe for you to move money around.
Move funds between Ally accounts
Transfer funds between your Ally account and your accounts at other banks
Schedule one-time and recurring transfers up to a year in advance
Make transfers between your Ally accounts while you're on the go with Mobile Banking
Popmoney — pay other people online
Popmoney® is a simple way to pay other people, anytime. It's faster than paying by check and you can pay just about anyone.
Send money to your friends and family — it's as simple as sending a text or email
Use an email address or phone number — no need to share bank account info
Get Popmoney for free with Online Banking
Already have an Ally account?
Call us 24/7 at 1-877-247-ALLY (2559) to set up your online access.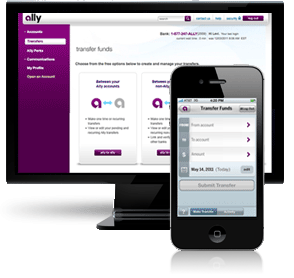 View a larger image
Frequently asked questions