Pay bills the easy way.
Start paying your bills using Online Banking with Bill Pay—which is free from Ally—and you may never write another check.
Pay bills from your Interest Checking Account to anyone with a U.S. postal address
Set up one-time or recurring payments up to a year in advance
Make next-day electronic payments to help you avoid late fees
Quickly compare your available balance with upcoming payments
Easily review biller statements or payment history
Sign up for eBills to reduce clutter and save paper
Already have an Ally account?
Step 1: Log in to Ally Online Banking.
Step 2: Set up the bills you want to pay.
Step 3: Decide what to do with all that free time.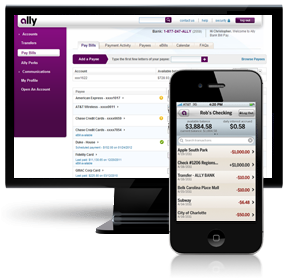 View a larger image
Frequently asked questions
How will I confirm a bill was paid?

You'll receive an online confirmation for every payment made. A unique reference number will prove you made a payment.

To view this information:

Select the Payment Activity tab in Ally Bill Pay
From the Actions column, select View
View the payment's unique reference number

If a payment required that a paper check be sent to a payee, you can view the date the check cleared and a digital copy of the cleared check (when available) using the steps above.

Can I set bills up to be paid automatically?

Yes, Ally Bill Pay offers 2 types of automatic payments that let you easily customize Scheduled Delivery Dates, amounts, or cancel scheduled automatic payments at any time.

Automatic fixed payment

You can set up an automatic payment for a fixed amount on a regular basis. This is helpful for recurring bills with due dates and amounts that don't change – such as:

Car
Mortgage
Rent
Student loan

Automatic eBill payment

Set up an automatic payment for the minimum amount or full amount due, based on the receipt of an eBill. This is helpful for recurring bills where the amount varies month to month – such as:

Credit card
Electricity
Water
Phone