Lease-end is just the beginning
To help dealers maximize lease-end prospects, we offer a broad range of products and services you can leverage to share information, promote your dealership and pursue repeat business.

Engagement
See how we engage lessees to help them enjoy an easier, more informed lease-end process.

Preparation
Learn about the tools and resources we provide to prepare your customers for lease-end and drive them back to your dealership.

Return
Explore all the options available to you and the lessee when they turn in their vehicle.
Engagement
Beginning 180 days before their lease agreements expire, we send lessees a variety of scheduled reminders, return tips and other related communications. Our efforts supplement your opportunity to engage these customers with materials and offers to get them back on your lot.
Ally Dash offers a variety of resources to help you retain customers, including lead lists that detail:
When your lessee's term will end
How much your lessee may owe in remaining payments if they terminate early
If your lessee's vehicle has enough value to end their contract early without incurring an early end charge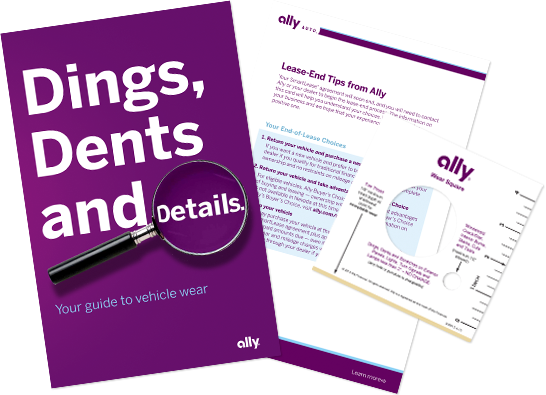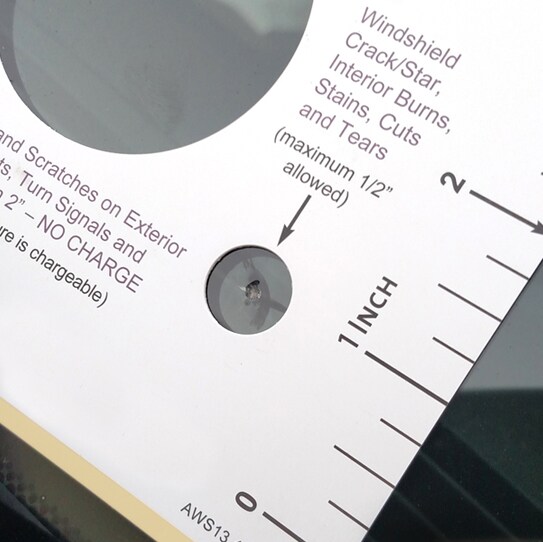 Preparation
Wear evaluation and pre-inspection
To help customers avoid lease-end surprises at your dealership, we offer:
A Wear Square (PDF) to determine if any punctures, tears or other vehicle damage may result in excess wear charges
A Dings and Dents brochure (PDF 2 MB) with frequently asked questions and an excess wear table
Dealer checklist
To help simplify the return process for customers, you should:
Encourage Ally lessees to review their SmartLease agreement for their scheduled end date, mileage expectations and purchase price (if they decide to buy the vehicle)
Ensure lessees return the vehicle accessories they're responsible for, including keys and key fobs, remote controls, cargo covers and other related items
Confirm that the owner's manual and other required documents are in the vehicle
Return
Payoff quotes
There are 3 ways you can find the exact amount a lessee owes on their vehicle anytime throughout the term of their lease:
Scan the customer's VIN with the Ally Vehicle Return Manager mobile app, which you can download from the app store on your device
Log in to Ally Dash and select RouteOne
Return options
At any time during the lease, there are 3 ways you can proceed:
Lessee return — after a third-party professional inspects the vehicle, Ally may offer it for sale through SmartAuction. It'll remain on your lot until it's sold and picked up by the purchaser, or until our transporter takes it away (if it's unsold). To get vehicles off your lot sooner and expedite customer notifications, use our Ally Vehicle Return Manager application.
Dealer purchase for inventory — quickly complete the process by initiating it through our Ally Vehicle Return Manager application.
Dealer purchase for lessee — after you initiate this transaction through the Ally Vehicle Return Manager, we simply require the Dealer Confirmation of Vehicle Sale and the Bill of Sale as proof of resale to the lessee.
Our Ally Vehicle Return Manager self-service tool can help you enjoy a fast, simple process no matter which option you and your customer choose. Review our Dealer Self-Registration Process guide (PDF 2 MB) and visit allyvehiclereturnmanager.com to register for access, or contact your Ally Account Executive for additional details.
To remit signed odometer statements and other associated documents to us offline, you can fax them to 1-877-290-9555.
For additional assistance, call us at 1-877-290-9544.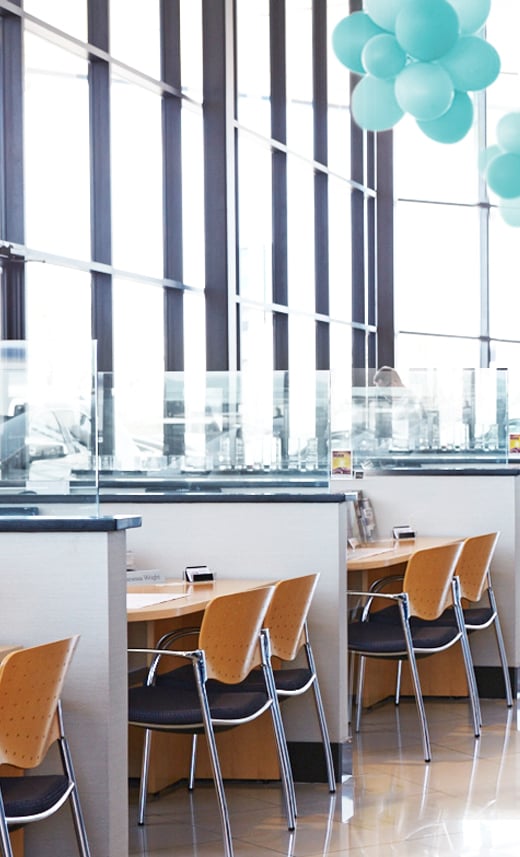 The new Ally Vehicle Return Manager lets you:
Ground or purchase off-lease vehicles from your mobile device or desktop
Easily obtain a variety of quotes, including payoff quotes
Notify us when leased vehicles are purchased or returned
Generate odometer statements for lessees to complete and electronically sign
To get started, visit allyvehiclereturnmanager.com and register for access. Upon receipt of the welcome email with your User ID and password (which can take up to 48 hours), you can log in to both the desktop tool and mobile app — available for free from the app store on your mobile device.