We're reliable, innovative, adaptable, and flexible.
Why partner with us.
We drive conversion to your business by offering your customers affordable financing solutions to pay over time. We're fluent in financing. You're fluent in your industry. Together we deliver personalized financing products customized for your industry.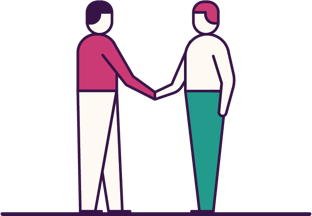 No credit impact pre-qualification for your customers

Launch your financing product in a week

Customers get installment options at checkout
The competitive difference.
Our advantage is that we combine consumer finance expertise and insights with inventive technology to offer tools and solutions that give you better financing products, services for your business, and experiences across a range of industries.
Our financing solutions improve your cash flow, as you receive full payment from us within 1-2 business days from booking the loan.

Increase customer loyalty.
We drive customer loyalty and satisfaction by offering installment loan and interest promotion products that keep your customers returning and new recruits through your door.
You save time and effort of developing and managing in-house financing products, this helps mitigate all of the risk associated.
We're always here to help.
We're sensitive to the stresses associated with the financing process. Our team of dedicated account managers are available to assist you and your customers throughout the financing experience.
We provide more ways to pay for out-of-pocket expenses.
You get paid up front and we'll take care of the rest.
Fixed-rate installment loan


Interest promotion payment option

No-interest, no payment option

Plans with no dealer fees

Keep in mind, financing options vary by market and may only be available to select providers.

Enjoy straightforward pricing.
We charge a merchant discount fee, a fixed rate per transaction. This amount varies based on your service. There are no start-up fees.
We charge a fixed Annual Percentage Rate (APR), this amount varies based on the borrower's loan term and creditworthiness. There is no down payment.

We've simplified the financing loan application process.
Our online process helps you easily close loans and quickly pre-qualify applicants with no credit impact.
Simple, quick pre-qualification with no credit impact.
Personalized financing solutions.
Complete your application and we'll run an instant credit check.
Sign documents electronically and receive confirmation via email.
Take the next step in partnering with us.
We make onboarding a breeze with customized training and personalized support designed for your business needs.
Interactive in-person and virtual training sessions
Get Started