Digital Accessibility: A Call to Inclusivity in Action
4 min read • May 18, 2023
There are more than one billion people that live with disabilities. Originally launched in May 2012 and celebrated the third Thursday of May, Global Accessibility Awareness Day (GAAD) is both a day of celebration and a day to pursue educational advocacy and awareness of the digital access and inclusion for people with visible and invisible disabilities.
GAAD at Ally
For the last several years, Ally's accessibility and inclusive design team have worked to raise awareness, and we celebrate GAAD each year. Now in our 6th year hosting Global Accessibility Awareness Month (GAAM) at Ally, we work to increase awareness around the daily challenges of digital interactions for accessibility users. These efforts have resulted in the creation of more inclusive customer-facing products as well as internal employee digital experiences.
Through GAAD and GAAM we aim to continue to ground ourselves in these key main objectives.

Promote and share an enterprise view of Ally's accessibility program, including why we focus on inclusion.

Kickoff conversations to increase awareness and generate excitement among employees, helping them understand why our efforts are critical to business success.

Feature external speakers to provide industry perspective, expert takes and storytelling.

Educate Ally teammates about accessibility in the community and within financial services.
Ally's Accessibility Program
Ally recognizes the importance of ensuring that customers, especially those with disabilities, have financial freedom to do their banking using an accessible website and mobile app. We ensure that the experiences we're creating are equitable and support each person on their personal financial journey.
Through our accessibility program, we've built a richer digital experience — specifically, going beyond the legal compliance for accessibility (what's required by law) and pushing for a more humanistic approach centered on unique customer needs. A key part of our program involves curating personalized research studies with community partnerships early in the design process to ensure voices of customers with disabilities are heard at the very beginning and then acted upon.
Below are a few examples of how Ally's digital platforms have become more accessible to people with disabilities since our program began more than six years ago.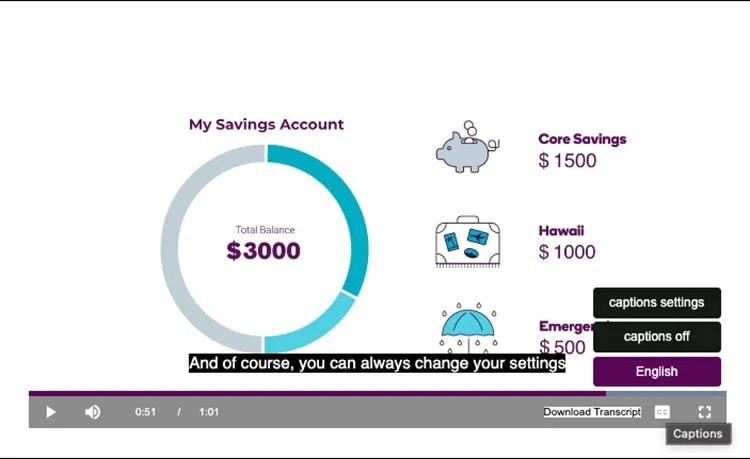 Closed captions
Closed captions are helpful for people who are hard of hearing or who are deaf. This can also be beneficial for anyone who is in a public space and can't turn audio on, or who prefers to have both audio and captions to consume information. Ally also offers downloadable transcripts to customers.

Skip to login and skip to main
Skip to login and skip to main buttons are helpful for people who are blind and have mobility disabilities. These mechanisms help assistive technology users get to the main content or login section faster. It can be time consuming to tab or read through lengthy navigation for people who use screen readers or alternative navigation, and these mechanisms provide a quicker way explore the site.

Dark mode
Many people prefer dark mode on their mobile devices, but it's especially helpful for people with cognitive and low vision disabilities. Dark mode can reduce eye strain, help with focusing, and improve battery life.

Key Learnings
As we continue to evolve our program, our team has learned several key lessons:

Take the time to understand the compelling stories of users of assistive technology and let that understanding take the lead in your design and development process.


Participative activities, such as testing with people with disabilities, earlier in the product lifecycle allow employees to personify the daily experiences of users with disabilities.


Empathy training is more important than technical training. When people understand why accessibility is important, they will figure out how to employ the technology to make sites work better for those requiring support.

Key Takeaways
Most physical and technological systems and processes aren't set up to serve all people equally. We can change that. The work to incorporate accessibility functionality might seem daunting, but over the past six years, our team has become acutely aware that even small changes to the functionality and design of a website, mobile app or other digital environment can make an enormous difference to those who may have a disability. But with awareness must come action.
We challenge and encourage anyone who's responsible for online experiences to listen closely to people with disabilities and then take that first step. It might feel small, but when you transform those stories into real digital products that impact real people's lives — in our case, their ability to manage their money and livelihood more effectively — that's the payoff. Your actions will drive awareness, empathy, trust, and most importantly, inclusivity….and your business will grow.
Be an ally. Advocate for equitable design. Join us in taking that first critical step toward a more accessible digital experience.
For more about Accessible Design and GAAD, visit https://accessibility.day
Interested in joining Ally's team of talented technologists to make a difference for our customers and communities? Check out Ally Careers to learn more.