Ally Invest Managed Portfolios
Start investing with
$2,500
Create My Plan
A portfolio made for you.
Professionally managed by us.
We'll take care of an important part of your financial picture so you don't have to. When you work with us, you'll get a tailored investment approach carefully monitored by a team of specialists – all for a low, affordable fee that never changes.
Low Advisory Fee.

With our affordable, straightforward pricing, you can invest in your future while keeping costs low. Our advisory fees are among the most competitive and there's no extra charge if we need to rebalance your portfolio. Estimate Your Monthly Fee

24/7 support.

When it comes to your investments, we know you want answers fast. If you have a question about your account you can call or chat with us and one of our knowledgeable specialists will help get you back on track.

Intelligent tools.

Our award-winning experience puts everything you need at your fingertips. You can check in on your portfolio any time to see how your money is performing or track your goals.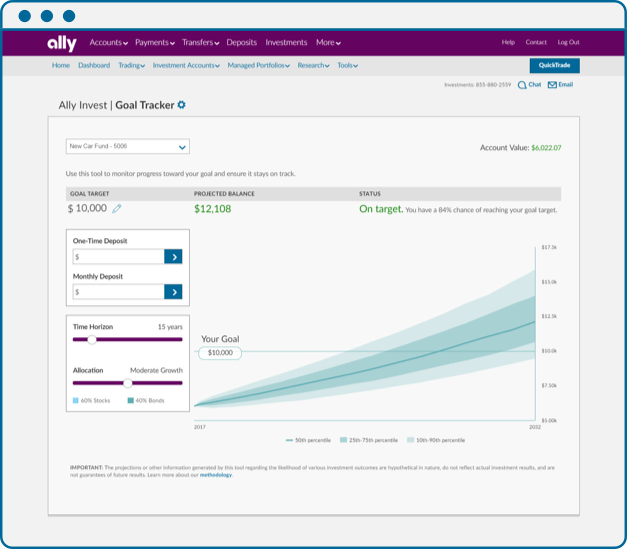 How It Works
Pick an approach. We'll take it from there.
We evaluate thousands of low-cost exchange-traded funds (ETFs) with attributes like stocks, bonds and cash to help effectively diversify your money. You can access your portfolio online to make changes or deposit money, and we'll review your account regularly to make sure your plan stays on track.

Create a Plan
Tell us about your financial goals and we'll recommend an investment portfolio featuring a diverse mix of ETFs aligned to your goals.

Customize Your Portfolio
Move forward with our recommendation or make changes until you find the balance of risk and return you're comfortable with. Then, open an account with just $2,500.

Track Your Progress
We'll monitor your portfolio and rebalance your asset allocation, as needed, so it stays true to your investment profile. Check in on it any time to see how your money is performing.
Affordable, Straightforward Pricing
Our advisory fees are a fraction of most traditional advisors' and there are no rebalancing fees.
Annual Advisory Fee
0.30%
The industry average annual advisory fee is 1.02%
Estimate Your Monthly Fee
Account Balance
$50,000
$12.50
Per Month