Photo of Mary. Ally Employee Since 1996
Features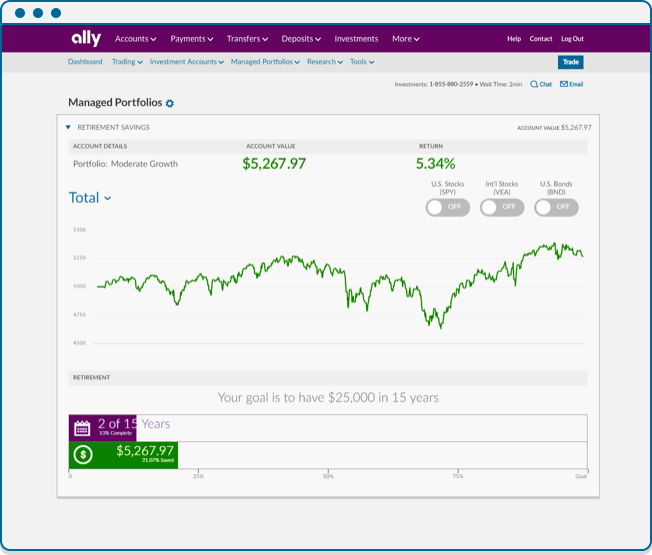 Goal-oriented investing
We recommend professionally designed, personalized portfolios tailored to your financial needs, risk tolerance, goals and investment horizons.
Low cost
Advisory fees are low and there are no trade fees when we buy or sell securities.
Expert support
Get fast, friendly 24/7 support online or by phone or speak with a representative about your portfolio.
Automatic rebalancing
We regularly update your asset allocation based on your investment profile, including your risk tolerance, projected length of investment and wealth outlook.
Invest for Less
You don't have to pay exorbitant management fees or have a six-figure account to enjoy the benefits of professional portfolio management. Our advisory fees are a fraction of most traditional advisors' and there are no trading fees.
Annual Advisory Fee
0.30%
The industry average annual advisory fee is 1.02%
Estimate Your Monthly Fee
Account Balance
$50,000
$12.50
Per Month
Automated Investing, Professionally Managed
Our managed portfolios are specially designed for investors seeking the perks of professional portfolio management with the low management fees of automated investing. Start investing with just $2,500.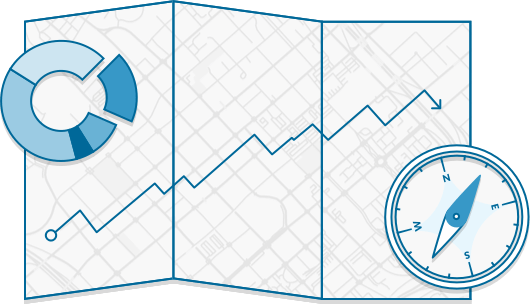 How It Works
We employ a rigorous evaluation system that sifts through thousands of exchange-traded funds (ETFs), seeking investments with low expenses and other favorable attributes. This evaluation process helps us select the investments that are best suited to meet your goals based on your risk tolerance and time horizon.

Plan
Tell us about your financial goals and we'll recommend a personalized investment plan designed to help you reach them.

Invest
We'll invest your money into a diversified, low-cost portfolio of index funds. Increase your investment any time with additional deposits.

Monitor
Our technology monitors and automatically adjusts your portfolio to keep you on track. Access your account anytime, anywhere to check in on your progress.