Photo of Sari. Ally employee since 2014.
Why Ally
We do what it takes to live up to our name
You're counting on us to help you reach an exciting milestone, that's why we do everything we can to make you feel comfortable and confident along the way. It's just the right thing to do.
Competitive rates
You don't have to go far to find the right loan. With consistently competitive rates and options tailored to fit your financial situation, we make it our goal to help you achieve yours.
The Ally Home Team®
Our loan experts are trained and committed to be on your side every step of the way. When you work with us you get:
Dedicated support – we provide you with a knowledgeable team of loan experts to help you through the home loan experience, from application to close.
Frequent updates – we check in with you regularly to answer any questions you may have along the way and ensure you meet your closing date.
Communication options – you choose how you'd like to be contacted: by phone or email.
Online access
We give you the option to keep track of all your loan-related documents online, from any device. Convenient and secure, you'll always know what we need, what's already done and where your application stands.
How it Works
Know what to expect ahead of time
Buying a home is a big investment. Before setting your sights on a home, you should See What You Can Afford
have an idea of how much you can spend.
Our Home Team is here to guide you through the home loan experience. This means you'll have a loan advisor, loan coordinator and closing coordinator with you every step of the way. After you reach out, we'll introduce you to a licensed loan advisor who will look at your information and let you know how much you may qualify for.

Our responsibilities

Help you understand your options
Provide a pre-qualification letter if necessary
Start your application

Your responsibilities

Be responsive to phone calls from us
Know your credit history, financial goals and what you're looking for
Select a property and make an offer

It takes 2 minutes to get started. Take the Next Step
Today's Rates
Get the home you want, on your terms
We're unable to show you our rate and payment options right now. Please check back later.
Crunch the Numbers
Estimate your home-buying budget with our affordability calculator.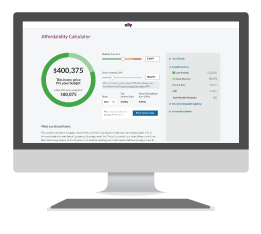 Close
What to Prepare
Since every loan is different, we won't have a complete list of documents needed until further along in the process, but it doesn't hurt to have a solid start.
We'll usually ask for copies of your:
Most recent pay stubs
Employment records
Bank statements
Tax returns
Monthly or quarterly asset statements
Signed and dated lease agreements for all rental properties
Proof of other income necessary for us to consider in your application
Other documents we may need:
Letter of explanation for gaps in employment greater than 60 days
Divorce decree/separation agreement
Letter of explanation for all credit inquiries and supporting documents if necessary
Proof all judgements/liens have been paid in full
Landlord information to verify on-time rent payments