Take a closer look at cryptocurrency.
A digital alternative to traditional currencies.

Understanding cryptocurrency.



What it is and how it works.
Cryptocurrency is a digital asset, intended to be a cash alternative, typically in the form of electronic tokens or "coins." It can be used to buy goods or services, or used for investing, in the way you would a stock. Although some U.S. retailers currently accept it, cryptocurrency's not yet a common payment method. To purchase it, you need a "wallet" – this is usually in the form of a digital currency app. Unlike physical cash, cryptocurrency isn't issued by a central authority, like a government or bank. It's managed, instead, by a decentralized, peer-to-peer network, using blockchain technology.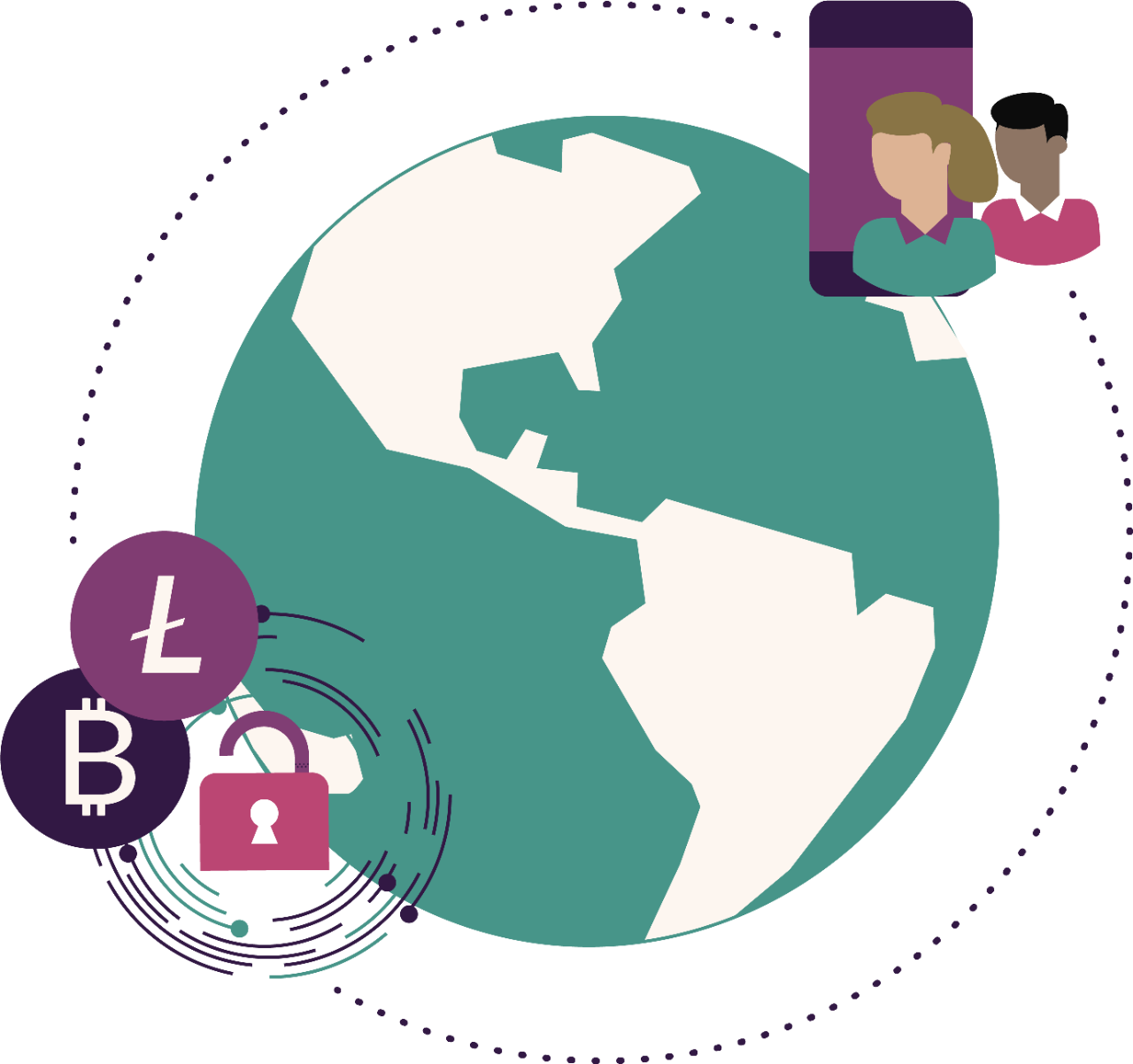 Cryptocurrency's intended to be the first digital alternative to our traditional cash-based system. Though it's still soon to tell, its technology has the potential to forever change the way we handle money.

Types are always emerging.

The first cryptocurrency, Bitcoin , launched over a decade ago. Now more than 10,000 exist – notable ones include Ethereum (a platform hosting most NFTs ), Litecoin , and numerous Stablecoins .
There's staying power potential.
Unlike other transaction services, cryptocurrency transfers process instantly, without a middleman, anywhere in the world. Many supporters also argue it may be resistant to inflation.

Like you, we're still learning.
Because it's still new, cryptocurrency's risks aren't fully understood. We do know it's volatile and less regulated – its holdings aren't currently insured by the FDIC or SIPC.

Cryptocurrencies are designed to be unregulated and as a result are volatile – sometimes extremely so. That volatility directly affects how securities related to cryptocurrency perform. It also creates additional risk that crypto trusts and bitcoin future ETFs may not achieve their objectives or be able to accurately track the price of their underlying cryptocurrencies.
The bottom line: the entire cryptocurrency space is speculative. Make sure you fully understand the risks. If you're going to directly buy or sell cryptocurrency, find a trusted exchange and make sure you understand the terms and conditions as well as any associated fees or costs.

Investing in cryptocurrency with us.



Your choices with Ally Invest.
We don't currently offer cryptocurrency spot trading. However, we do offer crypto-specific funds and stocks to indirectly expose your portfolio, no coins or wallet needed. Keep in mind, these aren't recommendations and are still subject to volatility, annual fees and other individual costs.

These are private trusts that invest in and track the price of specific cryptocurrencies, allowing you to indirectly trade them as you would a stock.

These exchange-traded funds (ETFs) invest in the purchase of bitcoin futures contracts. This means you gain exposure by speculating on the future price of Bitcoin without directly owning it.

These are publicly traded companies which individually buy and hold cryptocurrency. Buying shares of their stocks provides you with indirect exposure.

Getting started with cryptocurrency.

If you already have an Ally Invest Self-Directed account, log in. From the menu select Research to search for crypto-specific trusts, futures, and stocks.

Learn even more about trading cryptocurrency.
An informed trader is a smarter trader.