Ally Unlimited Cash Back Mastercard
®
for Nurses and Educators
2% cash back on all purchases. All the time.
That's right. Earn unlimited 2% cash back on all purchases with no exceptions or expirations.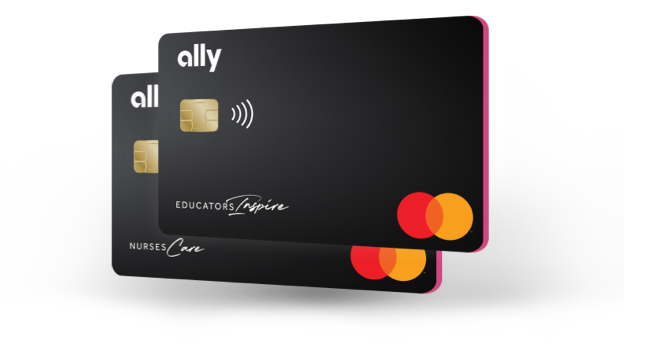 A card that starts with you.
We designed this Ally Unlimited Cash Back Mastercard for our nurses and educators, to honor all you do.
A little something in return.
2% cash back on all purchases
Here's what you always get with us.
No foreign transaction fees

No rate hikes if you make a late payment
Peace of mind knowing you're secure
Around-the-clock fraud monitoring
Here are our standard rates and fees, but we offer promotions whenever we can, so check your offer – you may be eligible for a lower APR and reduced – or even waived – fees.
Standard rates and charges:
APR: 20.99%-28.99%, variable
Minimum interest charge: $1.50
Balance transfer fee: 4% or $5, whichever's greater
Cash advance fee: 5% or $10, whichever's greater
Check your offer for special promotions, rates, and fees. Offer subject to credit approval.
Respond to a mail offer in minutes.
If we mailed you an offer, we're ready to get started whenever you are. If you don't have an offer, stay tuned. We've got a credit card you can believe in and can't wait to share it with you.
Respond to Mail Offer