The credit card your wallet's been waiting for.

Credit you can count on, with plenty of perks and none of the noise. Respond to your offer and get started.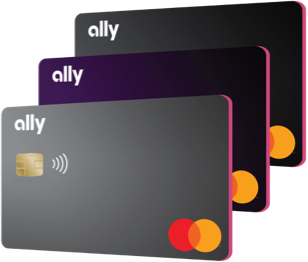 All our cards are stacked in your favor.
When it comes to credit, you're better off with an Ally. Every card includes great benefits, easy account management, and 24/7 customer care.
Around-the-clock fraud monitoring

No late-payment rate hikes
Online security and protection

Live, personal support, available anytime

Total control with our easy-to-use app
Here's a look at what each card offers.
Our cards are available by invitation only. If we mailed you an offer, you're ready to get started. If not, stay tuned. We've got a credit card you can believe in and we can't wait to share it with you.
Respond to Mail Offer
We did the homework. You get the credit.
Credit scores and rewards can be complicated. Our experts put together a few quick reads to help you reach your credit goals faster and maximize your cash back.